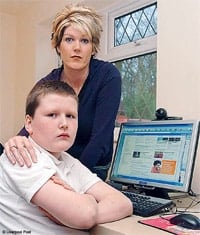 Two British parents, in fear that their son was being bullied at school, called police after their 10-year-old son received an email from another student (pictured, with his mother) calling him a "gay boy". Officers were sent to the school the boys attended. The school directed them to the home of the student who had sent the email. No further action will be taken, according to the police, but the incident would be recorded.
The accused boy's father, Alan Rawlinson, was livid: "It is completely ridiculous. I thought the officers were joking at first, but they told me they considered it a very serious offence. The politically correct brigade are taking over. This seemed like a huge waste of resources for something so trivial as a playground spat….I feel very aggrieved about this. We are law-abiding citizens who have paid taxes all our lives. I've constantly contacted police about break-ins at my business and never get a suitable response. George was really upset, he thought he was going to be locked up. This just seemed like a huge waste of resources for something so trivial."
Officers defended the visit, claiming it was behavior by the student that had been "ongoing".
In related news, a study of 7,500 U.S. youths between the ages of 14 and 22 by Children's Hospital Boston revealed that gay and lesbian teens are three times more likely to report bullying by their peers than heterosexual teens.
Police send four police officers to tackle boy, 11, who called schoolmate 'gay' [evening standard]
Police check on 'gay' email by 10-year-old [the guardian]
You may have missed…
British Pub Pressured to Stop Serving "Faggots" [tr]