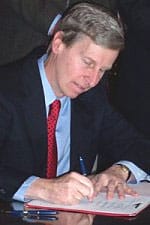 New Hampshire's Governor John Lynch had previously not made his opinion known on legislation advancing in that state that would legalize civil unions for same-sex couples.
Lynch has now indicated he'll sign the legislation if it arrives at his desk: "I believe it is a matter of conscience, fairness and preventing discrimination."
The legislation has already passed the New Hampshire House and Lynch says he is "confident" the legislation will clear the Senate when it votes next week.
State Republican Chairman Fergus Cullen balked at the news: "You're kidding. The Democrats are going too far, too fast and Governor Lynch is going along with them. These are not the actions of a moderate governor."
New Hampshire would join Connecticut, Vermont and New Jersey in allowing same-sex civil unions.