"Day of Silence" tensions, combined with the recent fever over violence at Virginia Tech, lead to lockdown at Indiana High School: "The Day of Silence at New Castle Chrysler High School coincided with a national Day of Silence and aimed to support gay, bisexual and transgender students. 'People were in their shirts for it, people were in their shirts against it, and it just caused a lot of drama that I didn't think was needed,' said student Kayla Boyles."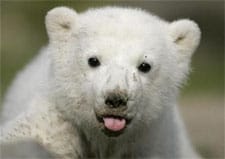 Berlin's global warming icon, Knut the baby polar bear, is the target of an anonymous death threat.

Middlebury College in Vermont, one of the Advocate's top 100 colleges for gays and lesbians, is tagged with anti-gay graffiti.

Netflix cashes in on Virginia Tech killings, featuring Oldboy, film killer modeled himself after.

Line-up announced for Cannes Film Festival: Wong Kar Wai's My Blueberry Nights to open fest; Gus van Sant back in competition with Paranoid Park…

ERUPTING: Thousands flee Colombian volcano.

Purported David Beckham nude an instant internet hit!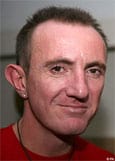 Gaydar founder Gary Frisch, who plunged to his death from an eighth-floor balcony in early February, was found to have raised levels of ketamine in his body: "Estate agent Stephen Ruddock was standing outside a nearby building when he saw Mr Frisch's body hit the ground. He said Mr Frisch shouted 'Waheey' moments before he plunged to his death. Mr Ruddock said: 'It was a celebratory thing. I saw his body come into my line of sight. It arced in the air and hit the ground.' Pathologist Dr Peter Wilkins said raised levels of ketamine were found in Mr Frisch's blood and liver. He added: 'It can have similar effects to LSD, confusion and hallucinations.' Recording a verdict of misadventure, the coroner, Dr Paul Knapman, said: "I don't think that it can be said he intended to kill himself. 'This is not suicide at all. He jumped to his death from the balcony of his flat on the eighth floor while under the influence of drugs.'"

Baby pilot

Hairspray trailer hits the internet Aqua Net.

Kathmandu, Nepal gets its first gay beauty salon: "The salon, which offers regular beauty parlour services like haircuts, facials, manicures and pedicures, is also a training academy for members of the gay community who want to train as beauticians. The first batch of 10 young metis – gay men who dress as women – is running the salon under the aegis of the Blue Diamond Society (BDS), Nepal's sole gay rights group." The Blue Diamond Society recently received two awards from the International Gay and Lesbian Human Rights Commission for grassroots groups making an impact in gay rights.

The Emma dilemma: "A 7-year-old girl is at the center of a court battle that is equal parts gay rights struggle, jurisdictional quandary and legal ethics question."