Moscow continues to say 'no' to gay parades: "'We have exhausted our options for reversing this illegal decision within the Moscow court system,' gay rights activist Nikolai Alexeyev told Interfax, adding that the ruling 'opens the way to the Supreme Court.' Alexeyev said the parade organizers would appeal to the Supreme Court as soon as possible, and that they hoped the court would reach a decision before May 27, when the parade was to take place."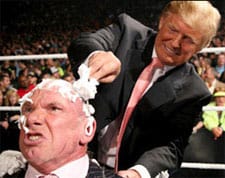 Donald Trump just thankful it wasn't him under the blade.
Gays in Victoria, Australia reach for their rights.
Surprise! Jamba Juice's non-dairy blend contains…milk!
Kevin Spacey and Sam Mendes teaming up for first time since American Beauty: "Mendes, 41, who made his name in British theatre before going on to find success as a Hollywood director, will direct six classical plays in three years for the Old Vic, of which Spacey, 47, is the artistic director. Titled the Bridge Project, the plays will feature some of the best British and American stage actors, starring in a double-bill of classic works shown at the Brooklyn Academy of Music, the Old Vic and a third international venue, starting next year in the Piccolo Teatro, Milan."
Need for community spawns gay nightclub in Madison, Wisconsin: "DeWall and Mortensen agreed in a recent interview that Madison's lesbian and gay community is so integrated into the general population that there's no central area, like the 'gay ghettos' of other cities. 'It's somehow set the gay community back,' DeWall said. As an example, added Mortensen, 'when the (marriage amendment) vote went through, everyone felt defeated. But there wasn't a hub where people could gather the next day to talk about it.'"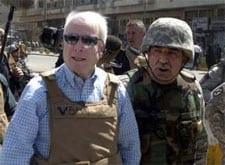 How some Iraqis felt about John McCain's recent photo-op stroll through Baghdad guarded by 100 American soldiers, with three Blackhawk helicopters, and two Apache gunships overhead to prove that Americans are "not getting the full picture" of how safe the city is: "They were laughing and talking to people as if there was nothing going on in this country or at least they were pretending that they were tourists and were visiting the city's old market and buying souvenirs. To achieve this, they sealed off the area, put themselves in flak jackets and walked in the middle of tens of armed American soldiers.
April fool? KFC offering Sanjaya a lifetime supply of KFC Famous Bowls® if he sports a bowl cut on Idol?
Mixner: Pakistan should scare the hell out of you.
AfterElton talks to Joe and Bill (aka Team Guido), the latest team to get knocked off The Amazing Race: "From that first season, we got vilified, and that caused a lot of problems within the gay community. We've never really been accepted like Reichen and Chip were because they were in a different genre than we were. Being a villain is a hard thing, personally, to go through. We thought we were lovable, believe it or not. After that experience, we thought, 'Okay, at least we got on.'"
New Orleans set to court gay travelers with new guide.