As the Oregon legislature began consideration of two gay rights bills — one that would allow for civil unions in the state and another that would ban discrimination based on sexual orientation — hordes of citizens turned out in Salem to testify for and against the bills.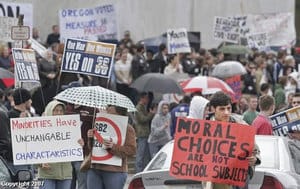 According to the Statesman Journal, "House Bill 2007 would enable gay and lesbian couples to enter into marriage-style contracts that grant them benefits of married couples under Oregon state law. They could file joint state tax returns, have joint health insurance plans or take sick leave to care for their partners, among hundreds of new benefits. They would not gain benefits granted to married couples under federal law, such as Social Security benefits and the ability to file federal taxes jointly. Couples could lose their benefits if they leave Oregon. Senate Bill 2, which passed the Senate 21-7 on March 21, would bar discrimination against gays, lesbians, bisexuals and transgendered people. They couldn't be evicted from apartments, denied seats in restaurants or fired from jobs because of their sexual orientation."
The Journal also reported a turnout of more than 700: "People jammed six hearing rooms and huddled around three television sets in an overflow area. Nearby, a group of 25 Christians stood in a semicircle and prayed aloud in Russian."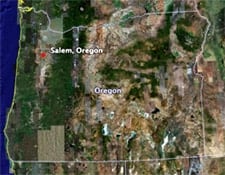 Oregon's only gay lawmaker, Rep. Tina Kotek, D-Corvallis, came with her partner. Said Kotek: "We are strangers in the eyes of the Oregon law. Tina and I are family. We may not look exactly like your family, but we are family nevertheless."
The Statesman Journal noted a large opposition rally, led by state worker Anna Zaichenko. Said Zaichenko: "Behavior is not a civil right. Granting special rights or privileges to those engaging in immoral behavior elevates that behavior to acceptance."
In 2005, then House Speaker Karen Minnis, (R-Wood Village) would not allow the legislature to vote on a civil union bill, claiming it went against the will of the voters who passed an amendment banning same-sex marriage in 2004.
Oregon Live reports that the committee chairwoman received over 1,500 phone calls about the bills, and that Christian pastors, gays and lesbians, parents, business leaders, and legislators testified at last night's hearings, which were guarded by Oregon state police, and lasted late into the night.
Activists crowd Capitol to address gay rights [the olympian]
Hundreds attend gay-rights hearing [oregon live]
Gay-rights testimony inspires crowds [statesman journal]
(image: statesman journal)