West Village condom shop Condomania shuts after 16 years.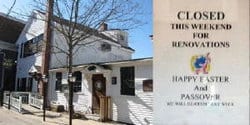 One of our favorite Provincetown haunts, the Atlantic House, was shut down this weekend after a little bit of a raw sewage spill. Let's hope they get it cleaned up before the season starts.

Patricia Todd, Alabama's first openly gay legislator, says she's more than a one-issue lawmaker: "I like to say I'm a representative that happens to be gay. I'm not the gay representative."

An undercover spy reports from inside the new Abercrombie & Fitch London store: "The interview room at the Abercrombie & Fitch headquarters was packed. The woman interrogator asked which three words I'd use to describe myself. I repeated what the girl before me had said 'I'm approachable and friendly'. My interviewer smiled and wrote this down. She informed us that the company had a 'tagline' which we would have to use when greeting customers. She explained, very seriously, that it was, 'Hello, how are you?' 'How did you come up with that?' I asked. She said a company of marketing consultants had worked intensively at developing it. They wanted to audition me to see if I could deliver the line – this was make or break. 'Hello, how are you?!' I said clearly. 'Very good' she reassured me."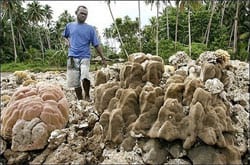 The recent major earthquakes have sent the Solomon Islands three meters out of the sea: "Corals that used to form an underwater wonderland of iridescent blues, greens and reds now bleach under the sun, transforming into a barren moonscape surrounding the island."

Roseanne Barr says gays and Evangelicals operate from the same place: "Never once in my 54 years have I ever once heard a gay or lesbian person who's politically active say one thing about anything that was not about them. They don't care about minimum wage, they don't care about any other group other than their own self because you know, some people say being gay and lesbian is a totally narcissistic thing and sometimes I wonder. I've never heard any of them say anything except for 'accept me 'cause I'm gay.' It's just, it's screwed. It's no different than the evangelicals, it's the same mindset. They want you to accept Jesus and you guys want us to all believe it's ok to be gay. And a lot of us, a lot of them, I do, I don't give a damn who anybody has sex with, as long as they're not underage and an animal. I don't give a damn, it's none of my damn business. I'm just sick of all the divisiveness, it's not getting any of us anywhere."

Futureworld: UK Ministry of Defence issues grim prediction.