The Boston Globe has published a profile on figure skater Rudy Galindo. Galindo has been HIV-positive since 2000 and still skates despite having had two hips replaced with ceramic ones since he was diagnosed with avascular necrosis, a degenerative disease, in 2002.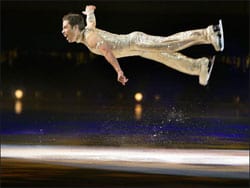 Says Galindo: "I'm going to skate as long as my body holds up. I am getting older, [but] when you're on a winning streak, you don't walk away from the table. That's the No. 1 thing. When you hear that applause, when you're taking your bows, that's the icing on the cake. That's what it's all about, to feel that rush. It's like Sally Field said: 'They love me. They really love me.'"
Galindo discusses contracting HIV, as well as the other tribulations he has faced. They began early, growing up in a trailer park, where he says the other boys had brown skates at the rental rink: "I had long hair. They used to put out the white skates . . . and I was so mad and I used to cry. Kids would say, 'You're gay, you're a sissy.' I used to be short and got into all these trailer park fights. I was wiry. At 12 years old, I won my first novice national title. It was all over the newspapers in San Jose and then they were nice to me."
Galindo says that following his bronze at the 1996 World Championships, all focus turned to his sexuality: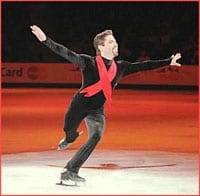 "I didn't come out — I was out," says Galindo. "The media was, 'Oh my God, you're gay,' and I'm like yes — I've been out my whole life to my family and friends. Everyone in the skating community knew. But just because I won the national title, it's like, 'Oh, my God, you're gay.' The judges would say, 'You have to tone down your costumes, your choreography,' and I'm like, 'No . . .' I wanted to skate for the audiences, not for the judges."
Galindo adds that even though he once urged the media to out skater Johnny Weir after claiming Weir copied his style, the two are close friends. He says now that athletes should be allowed to come out on their own terms: "I just think a lot of those athletes can't come out because it's a team thing and they're just worried about endorsements. I'm not going to say they're cowards — I don't want people to be mad at me. I just think their sexual preference is no big deal. Why do they have to come out? They do their jobs and that's it. Who cares what goes on behind closed doors?"
Galindo will be appearing this Sunday in Champions on Ice at Boston's TD Banknorth Garden.
Rising above it all [boston globe]