Six students are facing charges in the sickening attacks on 15-year-old Anthony Hergesheimer in Pueblo, Colorado.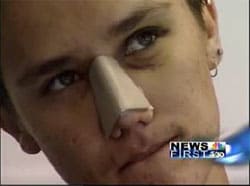 To recap: Hergesheimer, who is openly gay, began receiving taunts at school earlier this month from the students, who threw a wet tampon at him on school property and then followed him as he made his way home, passing him four times on the street while yelling homophobic slurs. One of them eventually got out of the car and threw an aerosol can at Hergesheimer's head, fracturing his cheekbone, breaking his nose, and leaving him with a black eye.
District Attorney Bill Thiebaut announced today that two of the juveniles responsible — Kyle Salazar, 16, and Bobby Ray Kanmore, 17 — would be charged as adults with felony crimes, and four others would face juvenile charges that remain unspecified.
Said Thiebaut, who has a history of prosecuting hate crimes: "In this case, I charged two defendants as adults because they were 14 years of age or older and are alleged to have committed a crime of violence. It's a very significant, disturbing case. I wanted to send the message to this community that this type of behavior won't be tolerated.
The attackers' status at the school is still under review. They are suspended, and may be expelled.
Background
Colorado Teen Assaulted by Fellow Students for Being Gay [tr]