Good-bye rights, we knew ye well.
The conservative Supreme Court that President George W. Bush helped solidify with two appointees, Chief Justice John Roberts and Justice Samuel Alito, today dealt a blow to four decades of decisions that favored a woman's right to choose, disregarding women's health issues as they upheld a ban on partial birth abortion by a vote of 5-4. It's the first time since Roe v. Wade in 1973, as Justice Ginsburg notes in her dissent, that the court has "[blessed] a prohibition with no exception safeguarding a woman's health."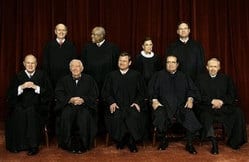 The Partial Birth Abortion Ban Act was passed by Congress and signed by Bush in 2003. According to the Associated Press, today's decision "was the first time the court banned a specific procedure in a case over how — not whether — to perform an abortion. Abortion rights groups as well as the leading association of obstetricians and gynecologists have said the procedure sometimes is the safest for a woman. They also said that such a ruling could threaten most abortions after 12 weeks of pregnancy, although Kennedy said alternate, more widely used procedures remain legal."
Bush hailed the ruling, saying "I am pleased that the Supreme Court has upheld a law that prohibits the abhorrent procedure of partial birth abortion. Today's decision affirms that the Constitution does not stand in the way of the people's representatives enacting laws reflecting the compassion and humanity of America."
Republican presidential hopefuls smiled on it as well, while Democratic contenders slammed it. John Edwards said he "could not disagree more strongly" while Barack Obama said it showed an "alarming willingness on the part of the conservative majority to disregard its prior rulings respecting a woman's medical concerns and the very personal decisions between a doctor and patient". Hillary Clinton echoed their positions, and spoke in more general terms about the court itself: "It is precisely this erosion of our constitutional rights that I warned against when I opposed the nominations of Chief Justice Roberts and Justice Alito."
Justice Ginsburg, the court's only female justice, wrote the dissent. She was joined by Justices John Paul Stevens, David H. Souter and Stephen G. Breyer. Read it here.
Supreme Court OKs abortion procedure ban [ap]
Supreme Court Upholds Ban on Abortion Procedure [nyt]
Supreme Court Rhetoric Reveals Deep 'Hostility' To Women's Rights [think progress]
You may have missed…
Turn to the Right [tr]
Roberts Proving an Artful Dodger [tr]