We've seen it before with Armageddon and Deep Impact (killer asteroids), then again with Capote and Infamous (Truman Capote). Now, slain San Francisco supervisor Harvey Milk is the next subject to be tackled with dueling films, and according to Variety, two well-known directors are racing to get them into production.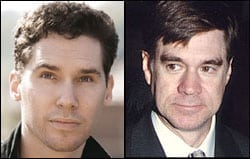 Bryan Singer is attached to direct The Mayor of Castro Street for producers Craig Zadan and Neil Meron, who hope to get the film underway soon despite Singer's July commitment to a project called Valkyrie. Said Zadan: "We're seeing the light at the end of a long tunnel. Warner Independent is pushing us to get the film made right away. Some of it might have to do with the enormous success of 'Brokeback Mountain,' and some of it is passion for the right tone and the story we are telling. [Screenwriter Chris McQuarrie] has nailed the take, and the goal is to have the script ready so that we can make the movie as soon as Bryan finishes his UA film. We've had tremendous response from actors."
Gus van Sant has reportedly attached himself to a Milk script by Dustin Lance Black, as yet untitled, which they are planning to shop to studios next week. Variety notes the irony of Van Sant's situation, as he was once attached to direct The Mayor of Castro Street, which has been gestating for 15 years with various people attached.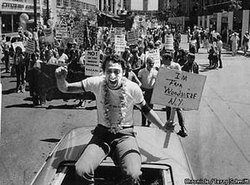 At a moment when gay rights are at the forefront of political discussion, the time is certainly ripe for a Harvey Milk picture. The dramatic story of the first openly gay elected official in the United States who was shot and killed along with Mayor George Moscone by fellow supervisor Dan White is not only historic and tragic, but has all the elements to tingle both the box office and awards committees. And Milk's tale as a political figurehead could not be more deserving of a retelling on film.
Anyone who has seen the amazing documentary "The Times of Harvey Milk" and witnessed (or perhaps remembers) Dianne Feinstein emotional announcement that Milk and Moscone were shot and killed before a cadre of reporters knows what I mean. If you haven't seen it, put your request in to Netflix now.
Here's some background on Harvey Milk for those unfamiliar. A bust of the gay rights pioneer is scheduled to go on permanent display in City Hall in 2008, on what would have been Milk's 75th birthday.
And, not that i'm biased or anything, but does anyone else think Jake Gyllenhaal would be great in this role?
Dueling directors Milk a good story [variety]
You may have missed…
Harvey Milk to get Bust at San Francisco City Hall [tr]
Thank God for Harvey Milk [tr]