The New York papers have begun having their field day with the McGreevey divorce and the forthcoming release of Dina Matos-McGreevey's tell-all Silent Partner: A Memoir of My Marriage
.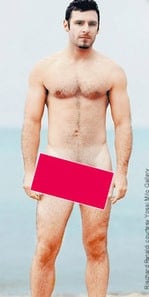 When last we heard from either camp in the McGreevey divorce, Jim McGreevey had laid down new demands in the bitter divorce and custody battle between Matos-McGreevey and the former New Jersey governor over their daughter Jacqueline. One of the new revelations that came to light at the begining of April was Matos-McGreevey's demand that a nude photograph hanging in the home of McGreevey and his partner Mark O'Donnell be taken down.
Yesterday, the New York Post published the photograph: "The 50-by-60-inch print in the master bedroom of the Plainfield, N.J., home of McGreevey and partner Mark O'Donnell is part of a series called 'Naked Gay Friends' by Manhattan photographer Richard Renaldi, and was featured in Blue, a gay men's magazine. According to Renaldi, 38, and the Yossi Milo Gallery, which sells his work, O'Donnell purchased the print for $3,000 in 2004. The shot was taken in 2000, on the shores of Lake Michigan, where Renaldi was vacationing with his partner of nine years, Seth Boyd. '[Seth] had just gotten out of the water. It's a lovely portrait,' Renaldi told The Post."
The former Gov. says the photograph is no longer on the wall of their home. He also says that claims by Matos-McGreevey that he and O'Donnell occasionally sleep in the same bed with 5-year-old Jacqueline are not true.
Matos-McGreevey reportedly made the claim in a response to McGreevey's recent divorce filing: "It is one thing for children to sleep with a parent or parents. It is quite another for children to sleep with a parent and a third party." McGreevey has said that his estranged wife has "seemingly irrational fears" about his sexuality.
Whatever your thoughts might be about what is tasteful or appropriate to hang in one's private residence or your opinion of Jim McGreevey, the slant on this particular article was tasteless to say the least and attempted in a disappointing and roundabout way to draw a connection between gays and inappropriate sexual conduct with minors.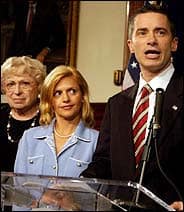 On to the New York Daily News which spills the details on Silent Partner, reporting that Matos-McGreevey says her only fears about his sexuality then were that he might leave her for another woman: "She was so convinced he was straight, she writes, that her only fear was that he might still be involved with his ex-wife, Kari, who lived in British Columbia with their young daughter, Morag."
Matos-McGreevey also speaks of that day when her husband stood before news reporters and shocked them with the statement "I am a gay American. McGreevey reportedly told her before the news conference: "You have to pull yourself together. You have to be Jackie Kennedy today…You have to smile. And if reporters ask you why you're here, you should tell them, 'I'm here because he's my husband and I love him.' And if the reporters ask you what you think of gay marriage, you should say, 'I'm sensitive to the issue.' Make sure you smile a little more when I ask for forgiveness and thank you for bringing joy to my life."
You may have missed…
Jim McGreevey Joins Larry Kramer in Times Square Protest [tr]
McGreevey Divorce Gets Ugly as Former Gov. Demands Custody [tr]