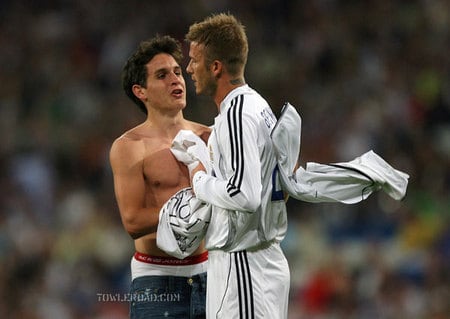 Police and security officers stormed the field in Valencia, Spain during a football match between Valencia and Real Madrid on Saturday after a young man ran on to the field and gave his shirt to David Beckham. It also appears he was trying to give his trousers to the football star as well, but didn't quite succeed.
While this fan's intentions appeared quite innocent, we know that's not always the case. It does appear that Beckham may have kept the gift. The fan walked away with a big smile on his face despite being surrounded by a cadre of security.
Real Madrid won the match 2-1.
You may have missed…
David Beckham: Tale of the Tattoo [tr]
Beckham and Caligula: Let Them Hate, So Long as They Fear [tr]