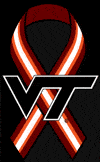 After the tragic incident at Virginia Tech on Monday many people took to the web, not only to gather information, but also to mourn, share condolences, and read first person accounts from people who were there. Virginia Tech's website has become a memorial of sorts, having been converted to a somber black and white color scheme and listing the names of the students and professors who were killed, as well as news, photo galleries, and official statements. VT also set up an April 16th Memorial Website where the public can post messages. As of today there are over 600 pages of posts.
Facebook, a social networking site geared toward college students, has also been a place for people from all over the country to gather and mourn. Hundreds of groups have been set up related to the VT shootings. One called "Always remember VIRGINIA TECH" has nearly 36,000 members, and another called "A tribute to those who passed at the Virginia Tech Shooting" has over 324,000 members. Finally, as BoingBoing points out, many people collaborated quickly to produce a Wikipedia entry for the incident which is extremely detailed and comprehensive.
Unfortunately, along with the public support and condolences that are posted to these sites comes many ugly and even violent racist sentiments aimed at Koreans and Asians in general.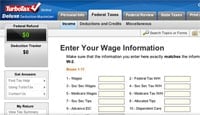 Americans filed taxes this week online in record numbers. One private tax software company, Intuit-owned TurboTax, which allows customers to file online, was so overloaded on Tuesday night that for several hours it could not process returns being submitted. The company apologized to customers and the IRS extended their deadline two full days for those affected.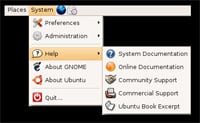 When it comes to computer software, we want it cost-free, bug-free, and pretty. Ubuntu released this week the latest version of it's open-source operating system which poses a threat to Microsoft Vista and Apple OSX by offering a free, well-designed alternative. With both Microsoft and Apple releasing costly operating system upgrades this year, many people are likely to consider Ubuntu, the darling of the open-source movement at the moment.
MySpace launched a news feature on its website, which pulls news stories from all over the web (like Google News) and lets users rate the stories, allowing popular content to float to the top of the pile (like geek-friendly Digg.com). MySpace hopes that the feature will add a new level of interaction for its massive base of influential young users.
NPR, Last.fm, and other popular internet and public radio groups are asking congress to intervene regarding a decision this week to substantially raise royalty fees for playing music from major labels. AccuRadio.com CEO Scott Hanson is leading the fight with his site SaveNetRadio, arguing that internet radio is being priced out of business. Said Hanson, "Under the judges' decision, we owe $600,000 for 2006 – which is about 150% of our total revenues. That would
absolutely bankrupt us and will force us to shut down."
TowleTech is written by TR correspondent Daniel Williford.