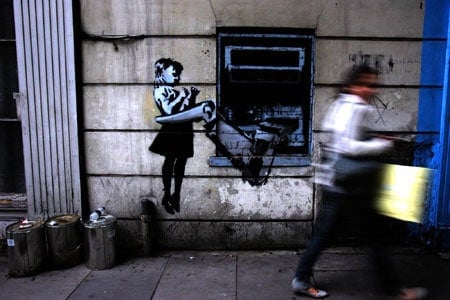 For all our Banksy graffiti, click here.
A new mural of a cash machine with a robotic arm snatching a little girl that recently turned up at Exmouth Market in Finsbury, London has grabbed attention not only for the fact that it's a new work by street artist/prankster Banksy, but also for its witty commentary on a current debate underway in the UK over unfair banking charges.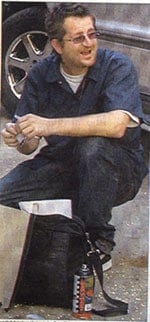 Photos purportedly of Banksy recently resurfaced due to the blaze of interest in the artist.
The New Yorker recently ran a major profile on Banksy, noting that he "revels in the incongruities of his persona." Here's a bit which perhaps explains why folks are going to great lengths to pry his pieces off of decaying walls in England:
"Although he once declared that 'every other type of art compared to graffiti is a step down,' in recent years he has produced his share of traditional works on canvas and on paper, suitable for hanging indoors, above a couch. His gallerist in London, Steve Lazarides, maintains a warm relationship with Sotheby's, authenticating Banksy pieces that the house offers for auction, and thereby giving Banksy's tacit endorsement of their sale on the secondary market. In February, Sotheby's presented seven works by Banksy in a sale of contemporary art. 'Bombing Middle England' (2001), an acrylic-and-spray-paint stencil on canvas, featuring a trio of retirees playing boules with live shells, was estimated to bring between sixty and a hundred thousand dollars. It sold for two hundred thousand. ("Bombing" is slang for writing graffiti.) Last month, a painting titled 'Space Girl and Bird' sold at Bonham's for five hundred and seventy-five thousand, a Banksy record. Ralph Taylor, a specialist in the Sotheby's contemporary-art department, said of Banksy, 'He is the quickest-growing artist anyone has ever seen of all time.' Banksy responded to the Sotheby's sale by posting a painting on his Web site. It featured an auctioneer presiding over a crowd of rapt bidders, with the caption 'I can't believe you morons actually buy this shit.'"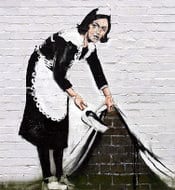 Earlier this month, a mural called "Sweep it Under the Carpet" that was located on the side of the White Cube gallery in Hoxton, east London was painted over, causing consternation among Banksy fans and collectors. Some accuse the gallery of painting over the image themselves, a charge they deny: "Contractors were hired to paint the wall but were told not to paint over the Banksy. It wasn't removed by us or our contractors. It was painted over by a third party but we don't know who." The mural was said to have a worth of £200,000.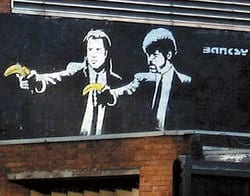 It was the second such erasure in a month. In mid-April, a group of Transport for London workers painted over an iconic Banksy image created more than five years ago featuring John Travolta and Samuel L. Jackson as their characters in Pulp Fiction, brandishing bananas instead of handguns. The mural was so iconic that prints were made of it that sell for £1,000 each. That mural was located on an electricity substation in central London. The Pulp Fiction image was said to have a worth of £300,000.
A spokesman for Transport for London told angered Banksy lovers: "We take a tough line on removing graffiti because it creates a general atmosphere of neglect and social decay which in turn encourages crime. We have no intention of changing this policy. We recognise that there are those who view Banksy's work as legitimate art, but sadly our graffiti removal teams are staffed by professional cleaners not professional art critics."
Banksy, of course, may take all this controversy straight to the bank.
You may have missed…
Banksy Reacts to Sotheby's Record Auction Haul [tr]
Banksy Works Continue to See Bank at Auction [tr]
Art Thieves Make off with Banksy and Building [tr]
Banksy for Sale, Banksy for Free [tr]