James Joell and Stephen Ireland, a gay comedy duo and couple from Eastleigh, England say they've been added as housemates for the next edition of the UK's Big Brother. Friends of the couple say they plan to marry on the show, which starts May 30th.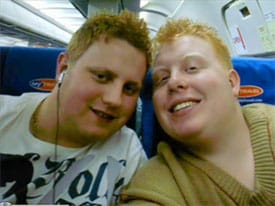 According to This is Hampshire, "Bosses at production company Endemol are rumoured to be packing the Channel Four favourite with more gay housemates than ever. They want the next show to be remembered for camp fun and frolics rather than fights and fisticuffs. And Stephen, 23, a look-a-like for Little Britain character Dafydd Thomas, and James, 22, could just fit the bill. Stephen's uncle John Chilvers, revealed they were set to appear in the show after a passing a series of four or five auditions."
A source for 24dash said: "It's their dream to be the first couple to marry on TV. I hope they manage it – they'll be forever remembered as pioneers."
The show's producers are remaining silent on the couple's inclusion, saying housemates are only confirmed when they pull up to the house in their cars on the program.
Given the video after the jump, taken from their site, the couple seems suited for Big Brother's antics…