A 12-page affadavit released by investigators details the actions of Cuadra Harlow, Joseph Kerekes, and Sean Lockhart leading up to and after the January murder of gay porn producer Bryan Kocis, in what police say was "a misguided effort to strike it big."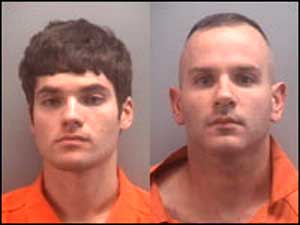 Unfortunately for the killers, "Cuadra was totally unaware that police were taping his every word. Police would not reveal how they did it."
Their plan: "In the movies, Kerekes goes by the stage name Trent and portrays a tough Marine. Cuadra is the baby-faced 'twink' – slang for a young-looking male model with little or no body hair, suggesting an underage boy. Cuadra and Kerekes were still only bit players in the gay-porn world…Cuadra and Kerekes imagined themselves as major players in the twink market. Their most ambitious project was one that would pair two of the hottest twinks on the Internet: Cuadra and a young man from California who went by the stage name Brent Corrigan. That was Sean Lockhart, who was already under contract to Bryan Kocis, a porn producer who lived in Dallas, Pa., just outside Wilkes-Barre."

Not long after the plan was hatched, firefighters responded to a fire at Kocis' home in Pennsylvania where they discovered the murder. Kocis' throat had been slit and he had been stabbed 28 times before his killers burned the body.
Cuadra had apparently shared wine with Kocis, and drugged him. Finally, "Cuadra talked about watching Kocis die. 'Actually, it's sick, but it made me feel better inside. It almost felt like I got revenge.'"
Lockhart reportedly "drove home, upset" when he heard the news.
A much more detailed chain of events here:
Affidavit lays out details in porn producer's slaying [pilot online]
You may have missed…
Gay Porn Models Charged with Murder of Producer [tr]