A Sydney magistrate today cleared gay rugby icon-turned-actor Ian Roberts of any wrongdoing in accusations brought by a former boyfriend that Roberts had assaulted him when Roberts came to his hotel room to try and retrieve a laptop and a digital camera that were in the ex-boyfriend's possession.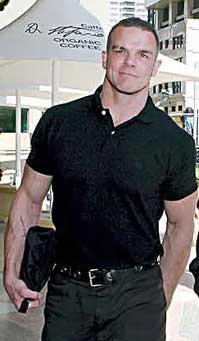 The former boyfriend, Ben Prideaux, had his side of the story disproven by another friend and former boyfriend of Roberts, and apparently did not help his case by becoming somewhat hysterical on the witness stand. Said the magistrate: "I mean no disrespect when I say this: he tended to become agitated in the witness box."
It was a three day court case that stretched over a period of six months, and cost Roberts $100,000 he says.

But Roberts, who is now seeing someone identified only as 'Daniel', had only kind words for Mr. Prideaux following the decision.
Said Roberts: "I care about the boy very much. I am so not bitter with Ben. I love him, I have no bad feelings towards him whatsoever."
Roberts, who had a small part as one of Lex Luthor's henchmen in Superman Returns, says he'll now return to L.A. to continue pursuing his acting career.
Said Prideaux after the decision: "I am happy it is over."
You may have missed…
'Big, cuddly softie' Ian Roberts in Court on Assault Charge [tr]
Gay Rugby Icon Ian Roberts in Superman Returns [tr]