Up to 87 were arrested at a birthday party for Farhad, a member of Iran's gay community last Thursday, and while several women among those arrested have been released, the gay men are still jailed.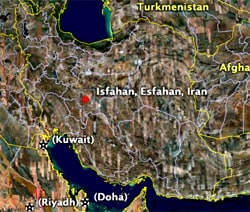 One guest, identified as 'Peyman' told the Toronto-based Iranian Queer Organization: "I went to buy a gift for Farhad and so I arrived late for the party. As soon as I turned in to their street, I saw police cars parked everywhere; all my friends were arrested while seven or eight policeman beat them with batons. Fearing the usual punishments for attending a party, two had jumped from the second-floor window and were in a bad condition. Farhad's family were also arrested. Everyone was transported into a big car and taken into custody. All their cell phones are off and we have no information about the situation inside the jail."
Another guest, Kia, reported: "Guests had come from Shiraz, Tehran, Shahin Shahr to Isfahan for Farhad's birthday. When they were coming out of the house followed by the police, their clothes were ripped, their faces and bodies were covered in blood. They were beaten up badly."
Given Iran's history of executing gays, the lives of those arrested are obviously in grave danger.
More Than Eighty Gay Men Arrested at Birthday Party in Isfahan [uk gay news]