Joan Collins and Linda Evans, who recently toured the country in a play about feuding actresses which capitalized on the rocky relationship between their former small-screen personas Krystle Carrington and Alexis Colby, are apparently determined to squeeze every last drop of juice out of the rivalry. Collins is claiming Evans "roughed her up" to the point where she has needs physical therapy and says she has even filed an insurance report.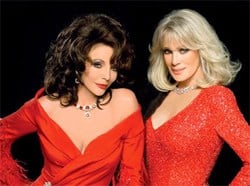 Said Collins' spokesman: "Joan ended the tour with a sprained knee, a scar on her hand and almost choked to death. Evans kicked Joan's hand so hard that she now has a permanent scar and cannot wear a ring on her right hand."
Evans' spokeswoman replied: "Joan Collins is the single most unprofessional actress working in Hollywood. Linda Evans hurting somebody? I find it unbelievable."
The play's producer claims that after Evans' foot touched Collins' hand during one performance Collins would no longer push the other actress: "Joan then refused to do it. She was afraid of it. So we had her push Linda with the end of a mop."
Aren't these the kinds of stories that are meant to fuel ticket sales before the show tours? In any case, here are a few reminders of their past efforts for you Dynasty fans.