Sean William Kennedy, 20, was leaving Brew's Bar in Greenville County, South Carolina when a man leapt out of a car and punched him at least once, knocking him to the ground. Kennedy died almost 17 hours later, according to WYFF Greenville.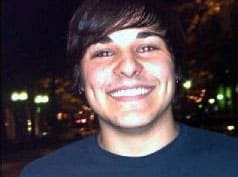 The suspect got back into his car following the assault, which Kennedy's friends believe was a hate crime. Kennedy was gay. Authorities are treating the case as a homicide, and exploring the possibility that he was attacked because of his sexuality.
WIS 10 Columbia says the bar was having a teen night.
Said Greenville County Sheriff's Lt. Shea Smith: "We've interviewed several witnesses in the parking lot when this occurred. We've talked to other people at the bar, and we have received tips and investigators are following up on that. The investigation continues, and we hope to make an arrest."