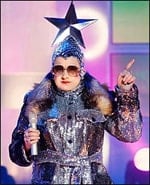 Via Idolator comes news that Ukranian drag queen Verka Serduchka is the current favorite to win the Eurovision Song Contest. The contest has been running since 1956. Each country in the European Broadcasting Union submits a song and casts scores for the songs of the other countries, until a winner is named. The finals are this Saturday.
In early April, Ukranian nationalists staged a demonstration to stop Serdyuchka from performing: "They put on theatrical shows and collected signatures for a petition. They claim that Serdyuchka is a grotesque stereotype of a stupid Ukrainian villager. The protesters want the country to pull out of the Eurovision Song Contest this year. They say that the drag act will damage Ukraine's international reputation when Verka Serdyuchka takes part in the competition next month. But they are unlikely to get their way."
And now, they may have a winner.