Christopher Turner talks to the SF Chronicle about his relationship with Armistead Maupin, telling the paper that Maupin, who is 27 years older than Turner, cruised him on the street after seeing his profile on a website Turner runs, hotoldermale.com (site NSFW).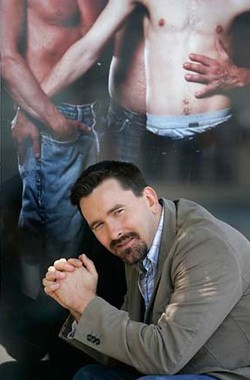 "Shortly after Christopher Turner started his Web site hotoldermale.com in 2002, a hot older male approached him while walking on 18th Street in the Castro district. The man said he recognized Turner from his online profile; he'd even printed out a photograph of the Internet entrepreneur. 'Apparently he didn't post his picture because he was too darn shy about the whole thing,' Turner, 35, recalled."
Turner has a new site, DaddyHunt, which pairs older men with younger men, and they've just posted a number of new billboards around San Francisco. Turner talks about the phenomenon:
"I think when people see a young man with an older guy, they think, 'Sugar Daddy.' And I guess the same goes for straight relationships. But one thing people don't see is that a lot of people have a serious attraction to older men — whether it's physical, emotional, intellectual — and feel more comfortable in relationships with older men. I launched the site as sort of a political statement: You can have a loving relationship despite an age difference … I think the Greeks understood it well, and so did the gay community. Back in the '70s, the gay community featured older, hairy guys in gay porn all the time. During the AIDS crisis, everything we saw, in advertising and porn, suddenly became young and clean…Attraction is hard to understand. My current attraction toward older men has been around since I can remember, but I imagine that could change. I'm really not sure. That's always the issue with an age difference. With Armistead, he's 27 years my senior and, you know, he'll likely die before me. So there's the big issue of any age-difference relationship. But who knows? It's hard to say where my attractions will be in 20, 30 years."
Maupin recently published the latest novel in the Tales of the City series, Michael Tolliver Lives
, which rejoins his character Michael Tolliver some three decades later. Turner notes that many of the themes on aging in the book bear a striking resemblance to the couple's own experience.
FIVE QUESTIONS For Christopher Turner [sf chronicle]
Michael Tolliver Lives
[amazon]
Recently…
Gavin Newsom's Maupin Tribute: Tuesday is Michael Tolliver Day in SF [tr]