New Orleans Saints runnin back Reggie Bush and future L.A. Galaxy star David Beckham met in Madrid for the first down in Beckham's blitz on American media. The two swapped uniforms and tried out one another's moves in a new campaign from Adidas called Futbol meets Football.
Said Beckham: "Since I signed with the Galaxy, you know every time I do an interview, I'm trying to get myself to say soccer because I've always said football. I've never been to an [American football] game. I want to. Because every time I've seen the Super Bowl or something like that, it's so passionate. Everyone — the fans, the players — seems so passionate about it. Without a doubt. I'm definitely going to get myself to some games."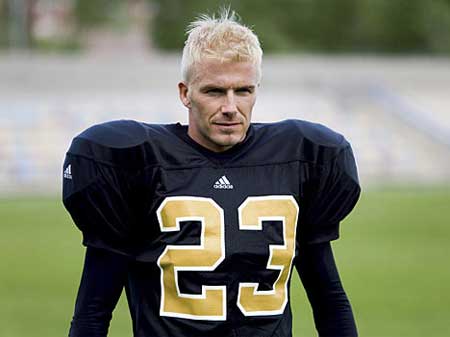 No photos of Bush were available, but we look forward to them, particularly if they look anything like this.
Adidas reports: "During Beckham and Bush's meeting in Madrid, Beckham strapped on a Saints helmet and uniform with his signature number 23 and performed running drills, ran pass routes with Bush defending him and kicked long-range field goals and punts. Bush, meanwhile, laced up his soccer boots and shin pads and defended short-range penalty kicks from Beckham playing goal keeper. Although each athlete looked momentarily uncomfortable in their new sports, they were able to quickly grasp the nuances, such as Beckham spiking the football after a touchdown catch and Bush playing a spirited game of keepy uppy with his knees and feet. Later, the two athletes exchanged jerseys and discussed what Beckham should expect after arriving in the U.S., from fan reaction to media attention."