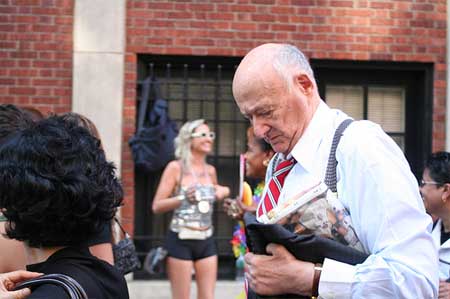 Actually, 'celebrate' may not be the right word. As the former New York City mayor watched the parade floats go by, his shirt was stained by some sort of liquid projectile.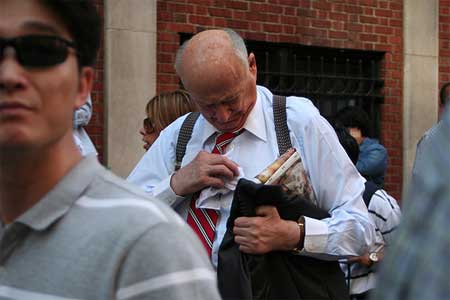 He didn't appear to be very happy about it, notes Flickr member Boss Tweed, who took these shots.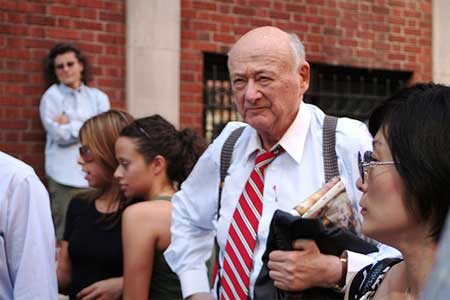 Koch, a lifelong bachelor, has always denied he is gay, despite rumors that followed him throughout his political career. In 1977, in his mayoral race against Mario Cuomo, when faced with an opposing slogan that said "Vote for Cuomo, not the homo," Koch replied, "No, I am not a homosexual. If I were a homosexual, I would hope I would have the courage to say so. What's cruel is that you are forcing me to say I am not a homosexual. This means you are putting homosexuals down. I don't want to do that."
In 1998, in a 30th anniversary issue of New York magazine, Koch repeated the denials: "Anytime you are mayor, you have critics, and one of the most persistent was Larry Kramer, who happens to live in my apartment building in the Village, and who ran around screaming that somehow I could have prevented AIDS. And the fact is, I did more on AIDS, and more to promote civil rights for gay people, than any other mayor in the country. Kramer's thrust was that I was afraid that if I showed concern, people would think I was gay. He wasn't the only one who said that, of course. Listen, there's no question that some New Yorkers think I'm gay, and voted for me nevertheless. The vast majority don't care, and others don't think I am. And I don't give a shit either way! What do I care? I'm 73 years old. I find it fascinating that people are interested in my sex life at age 73. It's rather complimentary! But as I say in my book, my answer to questions on this subject is simply Fuck off. There have to be some private matters left."
Below, openly gay New York City Council speaker Christine Quinn and Mayor Michael Bloomberg at this year's parade.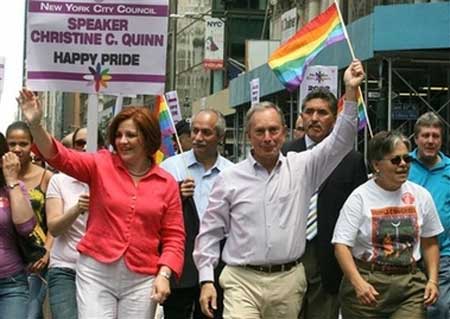 NYC Gay Pride [Boss Tweed – Flickr]