The largest poll on homophobic bullying ever conducted in Great Britain has found that nearly 2/3 of gay secondary school students had experienced some form of it.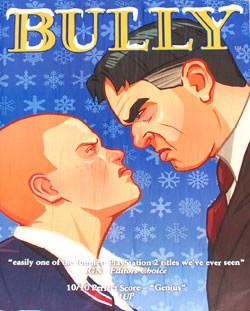 According to the BBC: "Almost all of those had experienced verbal bullying but 41% had been physically attacked, while 17% said they had received death threats."
The report said that many teachers — half — allowed the bullying to go on unchecked and less than a quarter of teachers had told students homophobic bullying was wrong.
Simon Watt, 17, told The Guardian: "Even before I came out, at school people were always calling me names, because I was effeminate-looking. I couldn't walk down the corridors without being called 'gay boy'. It was really embarrassing and I couldn't really talk about it. It made me feel like I was a bit of a wuss. Even in class, people would say: 'Shut up, gay boy', but the teachers wouldn't do anything. When I lost my temper and flared up at them, I would be the one who got in trouble…I was attacked one night by some 19- to 20-year-olds. I had a burst blood vessel in my eye, a black eye and a burst lip. I nearly fractured my cheekbone and they almost ripped my lip piercing out."
The report also said that "Ninety-eight per cent of young gay people hear the phrases 'that's so gay' or 'you're so gay' in school, and over four fifths hear such comments often or frequently."
70% of bullied students said it had adversely affected their school work.
50% said they had missed school as a result of the bullying.
Said Stonewall chief executive Ben Summerskill: "These deeply disturbing figures should serve as a wake-up call to everyone working in education. This remains one of the few sorts of bullying about which too many schools still take no action. It blights the lives not just of gay children but of thousands of pupils perceived to be lesbian or gay too."
Gay bullying in schools 'common' [bbc]
'The teachers joined in on the joke' [the guardian]