Playbill Arts reports that gay Swiss tenor Hugues Cuénod celebrates his 105th birthday today.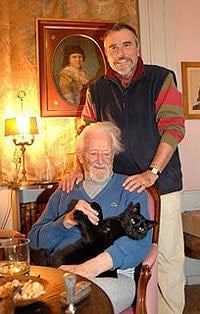 According to PA, Cuénod "was a member of Nadia Boulanger's madrigal group, sang in the world premiere of Stravinsky's The Rake's Progress, played one of the animals in The Cunning Little Vixen for Simon Rattle's Glyndebourne debut, and made his own Metropolitan Opera debut at age 84."
Now that's a life lived fully. And not only that. Cuénod legalized his 20-year relationship with 64-year-old retired Swiss civil servant Alfred Augustin in a civil union ceremony earlier this year.
Said Augustin: "It was a logical decision, especially at this age! Most people were happy for us, though a few promised us 15,000 years in hell." He also noted that although he is no longer very mobile, "Hugues still likes to go riding in the car, especially with the top down so he can let his long white hair blow in the wind."
Cuénod told the Associated Press about his birthday plans: "I will probably stay in bed. I won't do anything special."
What's his secret for living to such a ripe old age? Cuénod told Swiss Agency ATS: "It's not my fault, I didn't do anything for it! I'm in good health, I'm lazy and I have a [dear] friend to look after me."
We should all be so lucky. Happy Birthday Hugues Cuénod!
The World's Oldest Living Tenor Celebrates His 105th Birthday (And He's a Newlywed, No Less!) [playbill arts]