Human Rights Campaign launches "Back Story" blog.

Isaiah Washington will join Larry King on Monday, July 2. Meanwhile, Washington has reportedly been in Talks with NBC about a possible deal, but those talks have stalled.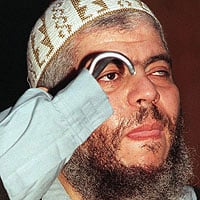 TAB: Hook-handed convicted terrorist Abu Hamza realizes his nurse is gay after two years and is now refusing treatment. Source: "The nurse is upset about it. He has spent the last couple of years doing everything for Hamza, even wiping his bottom. It shows how little respect Hamza has for others. The nurse dresses him, washes him, cleans his teeth, cuts his toenails, trims his beard and applies ointment for his skin disorder. His nurse is open about being gay. He even speaks with a camp voice. His nickname is Queenie. Hamza has been refusing treatment while he is on duty but he won't be able to keep that up because it is causing him a great deal of discomfort."

Democrats Tom Lantos (D-Calif.) and Rep. Gary Ackerman (D-N.Y.) urge State Department to rehire discharged gay Arabic translators: "We are writing to urge the Department of State to take a specific step — the hiring of our unfairly dismissed, language-qualified soldiers — so our nation might salvage something positive from the lamentable results of this benighted policy."

Kylie Minogue fever hits Manchester as artifact exhibit arrives.

Armistead Maupin talks about his keepsake dragon and the years he spent in Vietnam.

CNN's Nancy Grace announces that she secretly married – with twins. 'Thank you, friend'.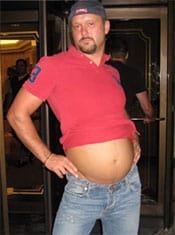 Tim McGraw also shows off his baby bump.

Cult members not allowed: Tom Cruise banned from shooting hitler film in Germany because he belongs to Scientology. "The U.S. actor has been cast as Colonel Claus von Stauffenberg, leader of the unsuccessful attempt to assassinate the Nazi dictator in July 1944 with a bomb hidden in a briefcase. Defence Ministry spokesman Harald Kammerbauer said the film makers 'will not be allowed to film at German military sites if Count Stauffenberg is played by Tom Cruise, who has publicly professed to being a member of the Scientology cult.'"

Seattle Bears win Slog Pride Parade awards: "This two-sided float, created by Northwest Bears, was the crowd favorite. Hell, it made both of Seattle's daily papers, displacing the usual shots of drag queens and half-naked lesbians on Harleys. Featuring a tub full of hairy daddies covered in suds, 'Bears, Bath and Beyond' was funny and sexy, camp and butch, and the unanimous choice of our judges."

Contrary to some reports, The View has actually lost viewers since Rosie O'Donnell's departure, to the tune of 400,000: "According to figures obtained from Nielsen/Soundscan by our research department, 'The View' sank like a stone during the first two weeks of June, right after Rosie left. Indeed, 'The View' suffered a 13 percent decline in household ratings, and a 9 percent decline in overall ratings during the combined weeks of June 4 and 11 compared with Rosie's last two weeks."

WWE star Chris Benoit in double homicide-suicide: "The details, when they come out, are going to prove a little bizarre."