Just days after a gay rights rally in Moscow was shattered by violence, a similar rally of about 400 brave activists took place in Riga, Latvia over the weekend.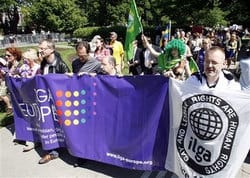 They too were threatened by anti-gay protestors, but a huge police presence guarded them as they marched around an enclosed park. Taunts were shouted, according to the Associated Press, but thanks to the extra-security the march was spared violence:
"Latvian police took no chances this year, and Interior Minister Ivars Godmanis even stood on a balcony overlooking the park so that he could orchestrate the hundreds of troops providing security below…Eight European lawmakers from various countries and two members of the European Parliament attended the gay-rights festivities in the Baltic state as a show of solidarity."
Last year's gay rights march, which took place in July, was the target of Christian fundamentalist, neo-Nazis, and ultra-nationalists, who threw eggs, excrement, and rotten fruit. The year before saw violence as well.
This year, a hateful counter-demonstration was being held that dwarfed those assembled in support of gay rights: "…an alternative anti-gay concert — dubbed 'The World Against Homosexuality' — was held about 1.5 kilometers (a mile) away on the riverfront and attracted several thousand supporters. Many participants wore T-shirts and carried balloons decrying 'homosexual propaganda.'"
I wonder if pastor Ken Hutcherson made a return visit to incite the hateful?