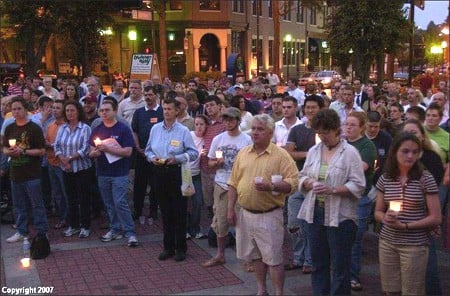 According to Greenville Online, the FBI is still reviewing the murder of Sean Kennedy in South Carolina to determine whether or not to classify it as a hate crime.
On Sunday, hundreds of area residents held a vigil in the young man's honor. Kennedy was killed on May 16th after Andrew Moller jumped out of a car outside Brew's Bar and punched Kennedy to the ground. He died of his injuries 17 hours later.
Organizers hoped the vigil would draw attention to the need for hate crimes laws in both South Carolina and nationally.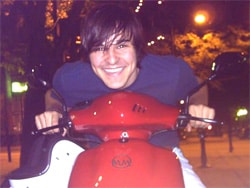 Sean's mother, Elke Kennedy, spoke at the vigil as did Beth Stroud, pastor of the Metropolitan Community Church of the Upstate. Said Stroud: "No one is safe from hatred until everyone is equally valued as a human being and equally protected under the law."
According to Greenville Online, Scott Henderson, clerk of the Greenville Quaker Meeting, condemned a county resolution passed a decade ago: "[Henderson] said the community ought to repudiate 'the hateful resolution that stands on the books today that was passed by the Greenville County Council more than 10 years ago.' The council voted 9-3 in 1996 to pass a resolution saying homosexuality was incompatible with community standards. 'We must create a society in which love, not hate, is supreme,' Henderson said."
Moller, charged with murder, is currently being held at the Greenville County Detention Center.
UPDATE: A foundation has been created in memory of Sean Kennedy to help raise awareness and support legislation that prosecutes hate crimes based on sexual orientation.
Sean's Last Wish [official site]
More than 200 attend candlelight vigil [greenville online]
Vigil For Slain Gay Man Pushes For Hate Crime Law [wyff]
(image: greenville online)
You may have missed…
SC Hate Crime: Mother of Sean Kennedy Speaks Out [tr]
Arrest Made in South Carolina Gay Man's Murder [tr]
South Carolina Gay Man Dies in Potential Hate Crime Assault [tr]