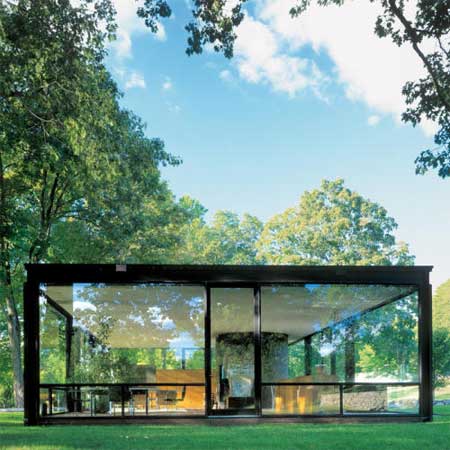 Perhaps, according to the Washington Post:
"…seen as a single entity, the Glass House/Brick House structures add up to the gayest house in America, an architectural enactment of a life lived with a rigorous division between the public and the private. Not that Johnson, a man who enjoyed wealth throughout his life, lived that particular dichotomy of hiding and revealing in the way that less fortunate men had to. But even at the level of its mechanical systems, the two-house dyad seems like a metaphor for the publicly brilliant homosexual: The Glass House is enticingly open but dependent on the Brick House for its hidden electrical and plumbing connections."
Philip Johnson's 1949 modernist masterpiece, the "Glass House" in New Canaan, Connecticut, will open to the public as a National Trust for Historic Preservation site this Saturday.