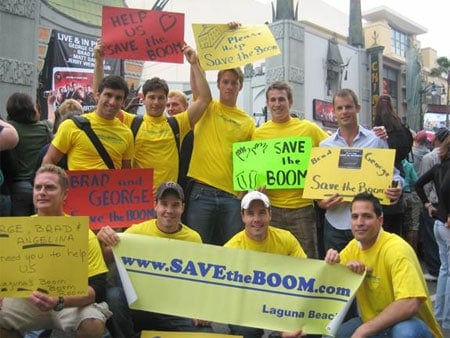 As Ocean's 13 stars Brad Pitt, George Clooney, and Matt Damon left their hand and footprints in cement at Mann's Chinese Theater in Hollywood yesterday, a group of Laguna Beach activists hoping to get their attention stood by with signs pleading with Pitt and Clooney to help save Laguna's historic Boom Boom Room property.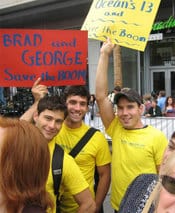 The action was a follow-up to the recent Daily Variety ad taken out by Laguna Beach resident Fred Karger and Mayor Bob Gentry asking the actors, once thought to be interested in buying the property, to reconsider.
Said the ad: "Now we are appealing to both of you to buy our 60-year-old landmark before it is converted into a boutique hotel…Both of you are true leaders in human and civil rights. Over 100 years of gay history that the Boom represents is a stake in Laguna Beach."
Efforts to save the Boom Boom Room have been underway since June 2006 when it was purchased by Steven F. Udvar-Hazy. After collecting approximately 6,000 signatures from area residents and supporters, the property was saved last August when Udvar-Hazy offered a one-year lease. That lease comes up in September.
Karger reports that at the Mann's demonstration, "Brad and George both gave us the old' 'thumbs up' when they walked by the demonstration. We got lots of media coverage and did several radio and television interviews."