New York Gay Pride in financial trouble due to disinterest.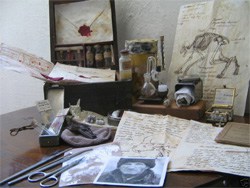 Art project: Werewolf research kit for sale on eBay.

The lowdown on this year's Frameline film festival in San Francisco, which continues thru June 24.

Idol: The Musical, about obsessed student fans of the music competition, is headed to off-Broadway: "There are eight of them; all belonging to the same cult-like club that meets daily in a barn that doubles as a shrine to Clay Aiken. They are actively ridiculed by the rest of Steubenville; a humiliating situation that doesn't deter their quest for all things Clay. They are victims of A.D.D., Ritalin, their misguided obsessions and their innocent longing for their elusive '15 minutes.' One of them pumps gas. One of them is home-schooled. One of them is a genius. And one of them is a basketball phenom who would rather be a Chippendales dancer."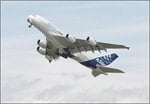 Airbus has announced that a mystery rich foreigner has ordered a double-decker A380 to serve as his/her private jet: " "It will be for personal use for him and his entourage. I can't tell you who it is but he's not from Europe or the United States." Customization is expected to take more than a year The Airbus itself cost more than $300 million.

Britain's Got Talent winner, opera singer Paul Potts, signs £1 million worldwide record deal with Simon Cowell: "Paul revealed he had a new fan in former Eurythmics singer Annie Lennox. Paul said: 'I saw Annie Lennox the morning after I'd won and she said she'd seen my performance and wished me well.'"

Mudbath expected at UK's Glastonbury festival as hordes troop in.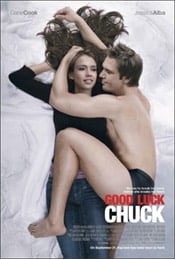 The new John Lennon and Yoko Ono? A reminder.

Work: Rupert Murdoch building $400,000 penthouse gym.

In America, can you get famous for impersonating someone famous for doing nothing?

Author ponders an Earth without people: "According to Weisman, large parts of our physical infrastructure would begin to crumble almost immediately. Without street cleaners and road crews, our grand boulevards and superhighways would start to crack and buckle in a matter of months. Over the following decades many houses and office buildings would collapse, but some ordinary items would resist decay for an extraordinarily long time. Stainless-steel pots, for example, could last for millennia, especially if they were buried in the weed-covered mounds that used to be our kitchens. And certain common plastics might remain intact for hundreds of thousands of years; they would not break down until microbes evolved the ability to consume them."

Sicko to get early release in Manhattan after this week's internet leak.

The top 10 deadliest animals.