After debating for three hours yesterday, the New York State Assembly approved the gay marriage bill introduced by Eliot Spitzer and Rosie O'Donnell's gay brother, Democrat Daniel O'Donnell by a vote of 85-61.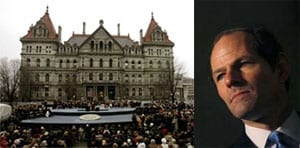 Democratic Assemblyman Ronald Canestrari told the Albany Times-Union that the impassioned debate changed minds: "This was one of those nights where the debate changed votes. It doesn't happen that often."
O'Donnell made a humorous plea to lawmakers near the end of the debate, according to the Rochester Democrat & Chronicle: "I do not want a seat in your synagogue, I do not want a pew in your church. I seek a license that many of you have had, some of you have had two or three times."
The debate was not without its offensive offended objectors, the AP reports.
Said Democrat Dov Hikind, an Orthodox Jew from Brooklyn: "Maybe we should include incest in the bill and sort of deal with the whole package at one time."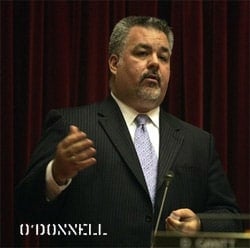 Republican Assemblyman Brian Kolb said "the nuns who taught me in grammar school" still had influence in his decision and added, "I do feel threatened. I do feel harmed. It's a direct challenge to me and how I was brought up."
Still, there were high notes. Recently-elected gay Staten Island Democrat Matthew Titone reportedly stood up with his cell phone following the vote and announced, to applause, "I have my partner here on the phone and he just asked me to marry him. My answer, Madam Speaker, is yes."
Meanwhile, the NYT City Room blog reports that Republican Senate Majority Leader Joseph Bruno had a news conference this morning telling everyone to just simmer down, because it ain't going to happen in his chamber:
"We're not doing gay marriage by Thursday; that's for sure, or this year. We're not going to take a vote; we have too many other issues. We're not going to spend hours debating an issue that, you know, is not going to be of consequence."
The Empire State Pride Agenda's director Alan van Capelle released a statement following the vote: "Our community and our allies made it very clear to their state legislators that access to marriage—and the over one thousand state protections and responsibilities that come with it—needs to be provided to same-sex couples and our families. Lawmakers heard from labor unions representing hundreds of thousands of New Yorkers and religious leaders from hundreds of congregations all across the state. They heard from our families and friends, our co-workers and neighbors who told them that New York needs to treat all families equally. The message clearly had an impact and today the Assembly did the right thing. Now it's time for the Senate to do the right thing."