In an interview in the new issue of W magazine, John Travolta talks Hairspray, Scientology, and, oh yeah, those pesky gay rumors:
"Travolta acknowledges that he might sometimes feel 'minor stress' when deciding if he's ready to handle the attention that his public appearances often incite, but he has apparently been able to draw a clear line in his own mind between private life and public persona. 'I have never felt compelled to share with you my bathroom habits or share with you my bedroom habits,' he says. 'Everyone has a right to privacy, so I have never felt—even though I am famous—that I had to share that with anybody.' Indeed, at the end of the interview, after the tape recorder has been turned off, he is posed one last question: Is he bothered by the rampant rumors about his sexuality, and does he think they've affected his career? 'No and no,' says Travolta casually. 'What affects your career is the quality of the product.' Besides, he adds with his typical confidence, 'I don't think anyone can hurt me.'"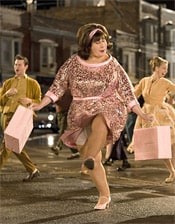 Travolta also says that he exerted control over his Hairspray drag by demanding that Edna Turnblad have a "wasp waist".
Said Travolta: "I said, 'If you give me a big waist, then I become Grandma. You can make her ass as big as you want, her tits as big as you want, but if you don't bring her in…I can't play what I want to play.'…It's like a Picasso sketch. I didn't want Edna to look like she was any more than 110 pounds, even though she was maybe 300."
You may have missed…
Atty: Travolta Manny Kiss a "Customary, Non-Romantic Gesture" [tr]
John Travolta: Global Warming Hypocrite? [tr]
Trick or Treat: More John Travolta as Edna Turnblad [tr]