Isaiah Washington continues to speak out about his unjust firing: "All of this I'm saying to you has absolutely nothing to do with the fact that he's gay. [T.R. Knight] came out October 19 as purely a tactical move to do exactly what it did, get public opinion in an outrage to lead them to believe that he is being picked on because he is gay. He could care less about the gay community."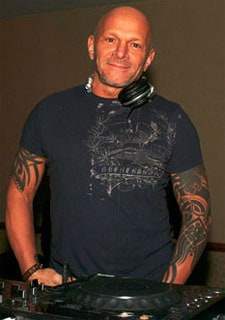 DJ Junior Vasquez warns against crystal meth — "Don't touch that shit. It'll suck your soul and ruin your life, and it'll take years to get it back" — and working with Cyndi Lauper — "I think she's immensely talented, but she's a control freak with bizarre ideas. She's a royal pain in the ass to work with."

California Governor Arnold Schwarzenegger's gay appointees: "Nowhere in the releases from the governor's office will you find any mention of the fact that seven of his appointments hail from the LGBT community. But since 2005 he has selected six gay men and one lesbian for political posts, three Republicans, two Democrats, and one independent."

Not coming on down: Rosie O'Donnell won't be doing The Price is Right after all.

Sunil Pant, founder of Nepal's Blue Diamond Society, the only LGBT support group in Nepal and the winner of the prestigious 2007 Felipa de Souza Award from the International Gay and Lesbian Human Rights Commission, speaks out about what it's like to be gay in Nepal – MP3 interview.

Can Kelly Clarkson survive her clash with music mogul Clive Davis?

Madonna buys sixth London property for £6 million: "The American singer and her husband Guy Ritchie last week signed a contract on the 10-bedroom Georgian townhouse in London's Marylebone. It adjoins the eight-bedroom property the couple live in with children Lourdes, 10, and Rocco, six. They also own two nearby mews houses, which are occupied by staff, and two other houses in central London…Madonna faced competition for the house from comedian Jennifer Saunders and photographer Mario Testino.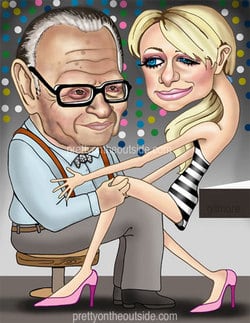 Paris Hilton to leave jail on Tuesday, have sitdown with Larry King. Illustration courtesy Pretty on the Outside.

CNN looks at gay adoption: "For the Manford-Roach family, difficulties arose when they first tried to hyphenate [their son] Jackson's last name. The judge overseeing the legal procedure in Dallas, Texas, crumpled up the paper and threw it over her shoulder when she realized they were a same-sex couple, Manford said. 'Get out of my courtroom, I would never do this for you,' the judge said, according to Manford. 'Children need a mom and a dad.'"

Transgender firefighter Jennifer Lasko pulls out of dinner with Barack Obama after her transgender status is exposed for fear of causing disruption to his campaign. Obama spokeswoman: "Sen. Obama would love to have her attend the dinner. If she chooses not to attend, Sen. Obama looks forward to meeting her and hearing more about her thoughts on how we can change this country."

Ad campaign attempts to humiliate male Australian speed demons by suggesting they are 'lesser' men: "The below-the-belt television ads show women noticing a young man roaring past then turning scornfully to their friends and wiggling their little fingers. The mocking gesture with the 'pinkie' is a clear sign they believe the driver is trying to compensate for an inadequate manhood, and is designed to counter the idea that speeding is cool and macho."