A biting pain: X-Ray reveals that a rugby player's incessant headaches were caused by an opponent's tooth which was lodged in his forehead.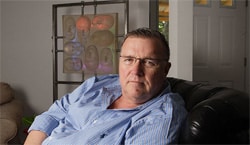 Didn't get to this yesterday, but over the weekend the NYT published a look at the rural retreat of political strategist David Mixner: "Inside, the cheerful rooms are filled with artwork and memorabilia, including antiwar posters and newspaper clippings. One sculpture consists of the faces of friends who died of AIDS, molded in Lucite and lighted from behind with neon. He never turns it off. 'It's my eternal flame,' he said. His other eternal flame is the computer screen. Mr. Mixner's main activity these days is blogging — his site, davidmixner.com, offers a mix of political discourse, arts criticism and folksy commentary on day-to-day life in Turkey Hollow. 'People will stop me on the street in New York and ask me about Attila and Kate,' he said, referring to the deer mentioned in many of his postings. Not that he has forgotten about politics. 'I have more political influence here than I did living in the city,' he said."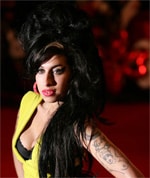 Arctic Monkeys, Klaxons, Amy Winehouse, Maps among those on shortlist for Britain's Mercury Music Prize.

Britney Spears inspires melee at Le Deux nightclub in Hollywood: "A girl was heard screaming and calling Britney a 'whore' and telling Britney to 'go back home to her babies.' This, in fact, actually upset a ton of people! A bunch of girls started attacking this girl and they actually pulled her weave out! Me and my friends were soooo scared man!"

Surreal: Rue McClanahan, Jeff Stryker, Bruce Vilanch, and Seattle drag queen Dina Martina performed a scene from Gone with the Wind last night at Ryan Landry's legendary variety revue Showgirls in Provincetown. Can we get a video please???

Elton John to build massive gallery at his British estate to house the more than 2,500 works of art in his collection.

Aaron Eckhart on his revelation about gay people: "I'll always remember. I was working in a restaurant in California with a guy who was gay, and I asked him, 'What do you feel when you look at a guy?' And he said, 'Well, Aaron, what do you feel when you look at that girl over there, and she's beautiful and you really want to be with her?' That's when I got it: It's the same thing."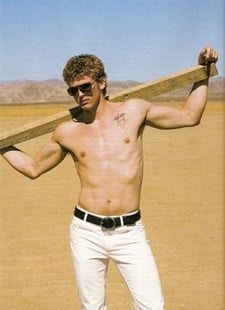 Kenneth Walsh pages through the latest issue of L'Officiel Hommes.

Landmark gay rights case underway in Canada: "The controversy stems from a letter written by Boissoin, then a Red Deer youth pastor, that was published in the Red Deer Advocate in June 2002. In it, Boissoin wrote 'my banner has now been raised and war has been declared' against those who are part of the 'homosexual machine.' 'From kindergarten class on, our children, your grandchildren are being strategically targeted, psychologically abused and brainwashed by homosexual and pro-homosexual educators,' he wrote. 'Your children are being warped into believing that same-sex families are acceptable; that kissing men is appropriate.' Boissoin went on to attack gay activists as 'spreading their psychological disease,' saying they were 'just as immoral as the pedophiles, drug dealers and pimps that plague our communities.' 'Where homosexuality flourishes, all manner of wickedness abounds,' he wrote."

"Pro-family" Republican Senator David Vitter, who was discovered to be a client of the 'D.C. Madam', apologizes, saying he never had relationships with prostitutes.

Following $660 million settlement, Cardinal Roger Mahony apologizes to sex abuse victims: "There really is no way to go back and give them that innocence that was taken from them. The one thing I wish I could give the victims … I cannot."

The Killers' Brandon Flowers has a son.