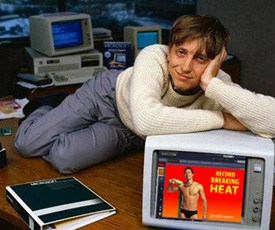 Word leaked out over the holiday break that someone had come to the rescue of troubled gay media empire PlanetOut, whose stock (Nasdaq: LGBT) closed at a paltry $1.66 a share on Tuesday. A news release said that the company had (mysteriously) raised "$26.2 million in private placement financing." The Seattlest is now reporting that it was Microsoft co-founder Bill Gates, aka the second richest man in the world, who did the good deed, keeping the doors open at The Advocate, Gay.com, PlanetOut.com and Out magazine for the foreseeable future.
Some have suggested this may be Gates' attempt at redeeming himself for letting Microsoft go neutral on Washington state gay rights legislation a couple of years ago, but given the fact that that the gays are just wild about Macs, perhaps he's trying to woo some to the PC world.
Whatever the case may be, it's good that The Advocate will be around. It would be sad to see another 40-year-old gay put out to pasture. And with the sharp-as-a-tack Anne Stockwell in charge over there, the seemingly erstwhile magazine could still have its best years ahead of it. And the boys still need Gay.com for those hookups dating purposes, don't they? Nice work, Mr. Gates!