The gay-hustler classic "Boy Culture" hit bookshelves more than a decade ago, then became a major motion picture earlier this year with a DVD release set for Aug. 14. Towleroad special guest blogger Kenneth Walsh caught up with the novel's author, Matthew Rettenmund. to see how he felt about watching his baby "Boy" blossom into adulthood:
Congrats on all the success of "Boy Culture." Wasn't your book originally your college thesis project ? Thanks. Yes, "Boy" has been around so long it would be a "Man" by now. I originally wrote it at 19 as a short story I needed to submit to be considered for Richard Stern's course at the University of Chicago, in 1989. I'd gone to the school naively thinking that since it was in a big city, it would be this perfect place to finally be openly gay and meet other people like me. While I did meet a few people like me, very few of them were gay; my gay experiences, social and sexual, often (though not always) took place off-campus. The separation between the staid university and the more festive Boys' Town was fascinating to me — it was intimidating to go back and forth from academia to more personal interactions, and of course the threat of HIV and other diseases added to the stress. When I wrote "Straight Story," I did it overnight and in character as a guy with the kind of ruthless gay ego I sometimes cynically thought was required for survival in the dawg-eat-dawg world of white, gay male society. It got me into the class and pretty much freaked out some of my peers, especially when it was published by a roommate of mine in a school literary journal. I eventually turned it into a novella, which became my senior thesis. It wasn't until I'd graduated and moved to New York, when I was working in publishing, that I expanded it into a full novel and retitled it "Boy Culture." Its publication was something of which I'm very proud, but the fact that the novel has remained in print for over a decade is even more satisfying.
Tell the readers about the evolution of your book into a film: The movie part was something I'd never dreamed would happen, so when Philip Pierce optioned the book, I didn't presume that meant it would actually become a feature film. My past working for a literary agent had exposed me to the roller coaster that is Hollywood. But I always liked Philip and was honored that he respected me and my work so deeply — he always wanted my opinions throughout the lengthy (eight years) process and genuinely cared when I was not happy about anything at all — so I knew that come what may, I would not be disappointed. There were years when nothing happened on my radar except e-mail exchanges about dream casts (Josh Hartnett, Paul Walker, Adam Garcia … the list went on), but Philip was actually working with Victor Simpkins (who produced "Swingers") and later with Stephen Israel to raise money and to hammer out a top-notch script. Philip worked on the script himself, and when they brought in Q. Allan Brocka ("Eating Out"), he and Allan co-wrote it. I knew zero about Allan, nor did I have a clue he intended to change the race of one character (or why), I just knew they'd brought him on. Then, after so much waiting, the movie was filmed at what seemed to me like a moment's notice in Seattle. I was invited to the set but couldn't even get out there in time. And then that was it, it had been made.
How did you feel about the outcome of the film? I have very positive feelings about "Boy Culture," the movie. I think Allan's direction was assured and brought a lot to the story. I wound up very pleased with the risk he took in making the movie more directly inclusive of the black gay community. I feel my original story simply criticizes the white gay community for being more insular than it would like to believe, while Allan's approach was to do something about it. His and Philip's writing is smart and funny, and I don't know how much more faithful they could have been to the spirit of my novel without hiring Vanessa Redgrave to sit there and read the entire thing aloud.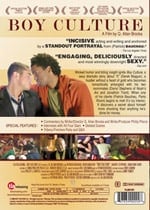 The DVD of "Boy Culture" is coming out Aug. 14h. Are there any special bonus features fans can look forward to? Special features on the DVD include deleted scenes (including a food fight at the wedding that caused focus groups to lose focus), interviews with all the stars including Patrick Bauchau (who wasn't available to promote the film when it was released) and footage from the TriBeCa premiere party. I'll be especially interested in seeing the latter since it was shot in my apartment!
What's next for Matt Rettenmund? I'm working on several different projects, some that would specifically appeal to a gay audience and some that wouldn't. The important thing for me is to find time to devote to writing — I've never had writer's block, have never stopped having ideas. My major issue is time. I wish they'd stop worrying about space travel so much and get to work on curing the need for sleep.