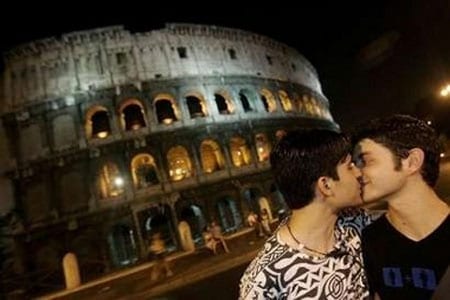 Two gay men who kissed one another in front of Rome's Colisseum early on Sunday were held by police for 40 minutes and then released. The Carabinieri paramilitary police said they were "not just kissing," a claim disputed by the couple, who have been charged with committing lewd acts in public, a charge that carries a maximum two-year jail sentence.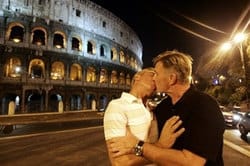 The couple, identified as Roberto L, 27, and Michele M, 28, say they "only shared a gesture of affection after a night out in the gay bars," according to The Australian.
Colonel Alessandro Casarsa explained the police action: "They acted because there was a couple that was committing a lewd act in front of one of the most viewed monuments in Italy. We apply the law to all in the same way, men and women."
Gay activist groups in Rome immediately responded to the arrest. Arcigay, the largest gay rights organization in Rome, hired the couple a lawyer and planned a kiss-in demonstration at the Colisseum on Thursday. Another group, the Mario Mieli Club, held a kiss-in on Sunday night (pictured here).
Italian MP Vladimir Luxuria expressed concern over the incident: "It's worrying that a gesture of affection is considered a crime. It's absurd that two young people who love each other should spend the night in a police station without having done anything obscene."
She said she would ask the government to explain its position in Parliament.
Gay protest to see Colosseum kiss-in [the australian]
Gay men arrested for 'kissing' outside Colosseum [the guardian]