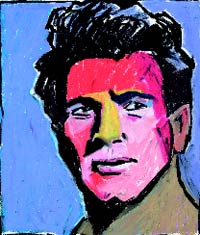 Fans of pop art portraiture visiting the eastern end of Long Island may want to check out "100 Homos," an exhibit by artist Don Florence. The show began in June and still remains up in a second room at Shelter Island's Boltax Gallery, reports Towleroad correspondent Michael Davis.
Enshrined among the 100 portraits are notables such as Andy Warhol, Little Richard, Fran Liebowitz, Simon Doonan, Pedro Almodovar, Todd Oldham, John Waters, and Rock Hudson.
David reports that Cary Grant, Elton John, Francis Bacon, and David Hockney have been snapped up by collectors already so those wanting one of the 86 "homos" left had better get moving. A portion of the proceeds of the show will go to Housing Works, an organization committed to ending AIDS and homelessness.