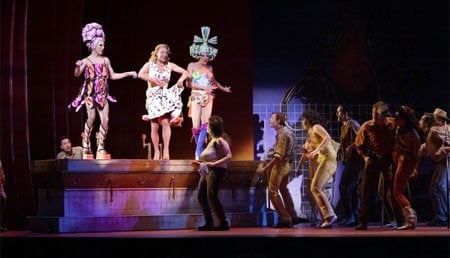 Here's some news of a gay theatrical sort with a bit more substance than yesterday's Brokeback rumor.
The stage version of Priscilla, Queen of the Desert, which has been running in Sydney, may be on its way to Broadway or to London's West End: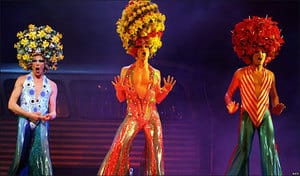 "Local critics praised this lavish, $6.5 million spectacle when it opened here last fall. Since then, it's caught on with disco-loving straight women, ages 20-40. They're repeat customers whose enjoyment of the musical increases in direct proportion to the number of 'Priscilla-tails' (cosmopolitans in glow-in-the-dark martini glasses) they consume before, during and after the show. They have one hell of a time. 'Priscilla' is aimed squarely at the 'Mamma Mia!' market, which is about as lucrative as it gets. The ABBA musical has grossed $2 billion around the world. 'Priscilla' ain't in that league yet, but its Australian producers have begun laying the groundwork for London and Broadway. With 23 tons of scenery, 514 costumes and enough glitter to entomb Liberace, a Broadway production could cost as much as $15 million, industry sources estimate."
Riedel notes that the musical, whose Australian production has been troubled by a poor script, would most likely need to be re-written for American audiences.
More theatre notes
Jackman to Meet Marsden in Brokeback on Broadway? [tr]
Repressed Singapore Tells Ian McKellen: Don't Get Naked [tr]
Xanadu: On Broadway (Seriously) [tr]
Mark Wahlberg Smuggles His Guns Through Airport Security [tr]
Gore Vidal Says He'll Sue Edmund White Over Timothy McVeigh Play [tr]