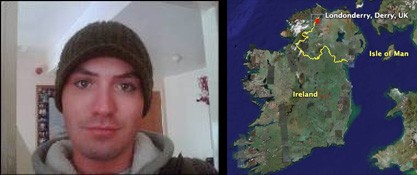 Eamon Johnston, Mr. Gay Derry 2003 and a favorite to win the Mr. Gay UK competition that year, was found dead in his home yesterday in an apparent suicide.
While the death on its own is tragic, 22-year-old Johnston is the eighth young person to commit suicide there in recent months.
The Rainbow Group, an LGBT support group in Northern Ireland, reportedly canceled its summer plans to close for the holidays in light of Johnston's death.
Said staff member David McCartney: "At this time, the thoughts of everyone here at The Rainbow Project are very much with the family and friends of Eamon. This event has sent waves of shock throughout both the gay and wider community, many of whom are struggling to comprehend what is happening. A sudden death of this nature traumatises communities in a way that is indescribable and causes immense emotional pain for those left behind. We are acutely aware of the vulnerability of those that knew Eamon and the need for support at this time. We urge anyone for whom this is having an impact to come and talk to us in confidence. Our door is open to anyone that would like to talk."