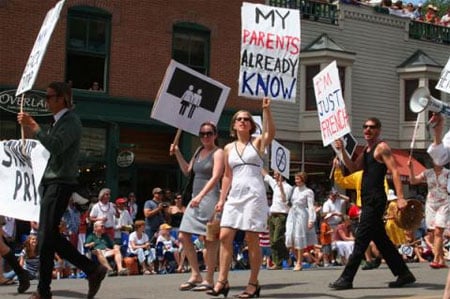 Telluride, Colorado's 4th of July parade had an unusual entry — a group of marchers dressed as the "Straight Pride Brigade." Participants explain that it was meant as "a satire of the over-the-top gay pride parades in cities like New York or San Francisco."
The Telluride Daily Planet reports: "On July 4, a dozen Telluride residents suffered into polyester pants and scratchy sweaters, combed their hair flat and slipped on loafers and pumps to become the Straight Pride marchers. They whooped and waved and kissed in the middle of main street (girls kissing boys, naturally). But it was the group's signs that most rankled some on the sidelines. Some seemed innocent enough (one said, simply, 'I like boys') but others were less gentle, saying 'I'm Over the Rainbow' or 'Not in my Backdoor.'"
Some residents of the Colorado town, which hosts a gay ski week every year, were not amused.
Said Boulder resident Gretchen Norham: "They were clearly nothing more than an anti-gay hate group. Shame on this group. Shame on the judges. I expected better from people in Telluride."
Another observer said : "It was intended to be funny, biting humor, but some of the signs were not funny. But there was just something about it. Some of the signage was anti-gay."
Another resident, real estate agent Matt Hintenmeister, along with some who wrote letters to the Daily Planet, wants an apology: "They don't really understand what their float was about. They say that it was all just a joke. Even if it was, they should have realized that it was in really poor taste, and come out publicly and apologized."
Ethan Hale, who marched with the group, defended the idea: "I thought it was going to be a funny idea, so I was up for it. A lot of people are misconstruing it. It was, first and foremost, a joke. It was not homophobic."
The "Straight Pride" marchers took second place in the parade competition's humor category.
Paraders wanted only laughs [telluride daily planet]
Avoid Telluride until town apologizes for "Straight Pride" float [telluride daily planet – letters]
Celebrating in Style [plum tv]
(image source)