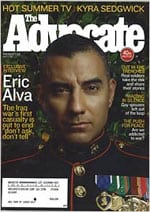 The Advocate has shed its skin and will be arriving in the mail without the paper wrapper that for so long has been forced on subscribers due to concerns for discretion in a world that is not always so tolerant.
Publisher Michael Phelps told the NYT: "The majority no longer wanted the covering. For some, they said they were environmentally conscious and wanted to cut down on waste. For others, it was more of an out-and-proud issue."
PlanetOut says OUT magazine will soon follow suit. The covering will, however, remain an option for those who want it.