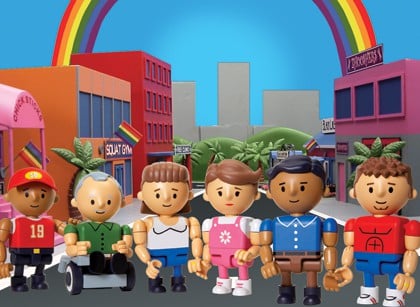 Last night I watched the pilot episode of Logo's new animated series "Rick & Steve: The Happiest Gay Couple In All the World," which premieres Tuesday, July 10 at 10 p.m. ET/PT.
Set in the gay mecca of West Lahunga Beach, the story revolves around fem Filipino Rick and his himbo boyfriend Steve and their interactions with two other couples, Chuck and Evan (the AIDS patient daddy and his twink boyfriend) and fem Kirsten and her bull dyke lover Dana. Voices are provided by a number of well-known performers, including Laraine Newman, Peter Paige (Emmett on "Queer as Folk"), Alan Cumming, Wilson Cruz (Ricky on "My So-Called Life") and Margaret Cho.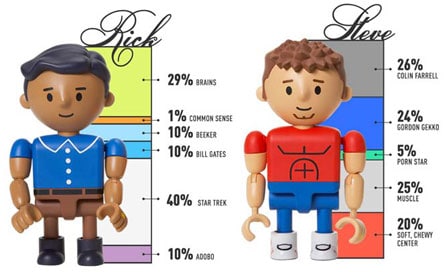 The show skewers all aspects of "gay life" — lesbians driving pickup trucks, lesbians hating men, gay guys cruising bathrooms, gay guys being obsessed with the gym, you know the drill — and features later-generation Fisher-Price-like characters saying some pretty outrageous things — "My AIDS is really acting up" and "It's my fault (we can't get a threeway going) for being Asian" — that have sparked comparisons to "Avenue Q." Politically incorrect humor is greatly appreciated over at my house, but it really has to be, um, really funny to work. I smiled a couple of times during the Episode One (smiled, not laughed) and will probably check out the second one. But just having animated characters (or puppets) say or do adults things isn't going to be enough to make this show work. Let's hope the show's mastermind, Q. Allan Brocka, who brought us the enjoyable films "Eating Out" and "Boy Culture," has another trick up his sleeve. FYI: You can watch some preview clips here.