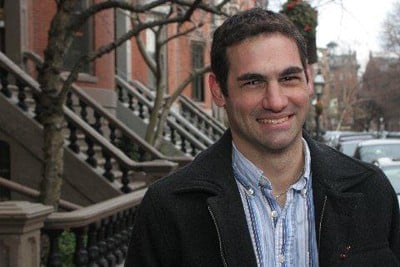 Johnny Diaz first gained notoriety as Dan Renzi's better half on the Miami season of "The Real World" back in '96. These days he's better known as a reporter for The Boston Globe, a blogger — and most recently a novelist (his first book, "Boston Boys Club," came out in May). Towleroad special guest blogger Kenneth Walsh caught up with the Latin wordsmith to find out how he manages all three roles and what lies ahead.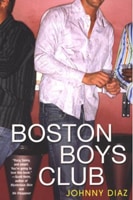 Congrats on publishing your first novel, Tell us about the experience.How long did it take to write?
When I moved to Boston, I immediately started going out to the most popular bar in Boston called Club Cafe. It was a great way to find story ideas for The Globe and to meet new friends. But the more I came here, the more I noticed what a carnival of characters this bar had. I noticed the same faces standing in the same places and I wondered, "Why are they here? What's their story." So just for fun one night, I wrote a short story about three friends who meet up at Club Cafe. I wrote this as a fun creative release, not thinking it could be a book. And a week later, I found myself sitting in front of my laptop writing a second story, from the point of view of one of the other guys. A week later, I did the same from the perspective of the third friend. Each story became a chapter and over the next six months, a book was born.
Part of my motivation came from my regular reading. I devour books and I noticed that the gay fiction I read never included a main Hispanic character. I kept seeing smaller supporting roles, stereotypes we've all read countless times before: the gangbangers, the super built old-school macho guys; the sexy hot Latino gardeners and the over-the-top drag queens. I wanted to write something that spoke of our strong friendships, our family loyalty and our struggles with being accepted as gay in the Hispanic community. I wanted to capture how Latinos thrive and survive in a daily bicultural bubble and how we sway back and forth in this dual reality. I haven't seen many contemporary novels by a gay Latino writer that speak to all this, especially from an American and Hispanic point of view, with a Boston and Miami as backdrops.
How long from finishing a the draft to publication?
Publishing is a different animal from daily journalism. I finished the first draft in May 2005. It was sold in September of that year. It was just published last May. So basically, way too long. Compared to newspapering, book publishing runs on dog-years time.
What's the strangest thing that's come out of the experience?
Hmm. The strangest thing so far is when people have come up to me at the real Club Cafe and asked me who is who in the book. They actually point at real people in the crowd as if they were the characters.
Dan Renzi has been half-jokingly complaining that you based a character on him. Are things kosher between you two?
Things are good between us. He was a big part of my life and I have always been fond of him. There are parallels between him and the Kyle character but if you look deeper, they tend to be very different guys. So far, Dan hasn't bombed or egged my condo in Boston so I guess that's a good thing.
What's more rewarding — the blog, the book or your daily byline in The Globe?
I get some satisfaction from all three. In each, I try to share people's stories so that readers will hopefully be enlightened and inspired by what I have written. If they find that connection through a character in my book, through a subject in one of my articles or from a funny experience in my blog, then all three writing outlets are worth it.
What's next for Johnny Diaz?
I have some readings this summer in Ptown and New York as well as helping out at the National Lesbian and Gay Journalism Conference in September. I just finished my second novel, " Miami Manhunt," which will be published next summer. For now, I just want to keep reading and more importantly, writing. I love it. It's part of whom I am.