This Wednesday or Thursday, Queensland federal Liberal MP Warren Entsch will deliver Australian Prime Minister John Howard a petition signed by 25,000 people demanding that the government end discrimination against same-sex couples.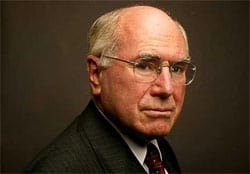 The petition, organized by activist group Get Up! reads: "Same-sex couples should have the same legal rights as de facto heterosexual couples. I call upon you to make this first step towards equality by immediately legislating to end discrimination against same-sex couples."
The petition is being seen as a second push following the release of an official report in June from the Human Rights and Equal Opportunity Commission which highlighted basic financial entitlements, tax concessions and superannuation benefits that are denied to same-sex couples under current law.
You may have missed…
Australian PM John Howard Wants Ban on HIV-Positive Immigrants [tr]
Elton John to Australian PM John Howard: "Up Yours" [tr]