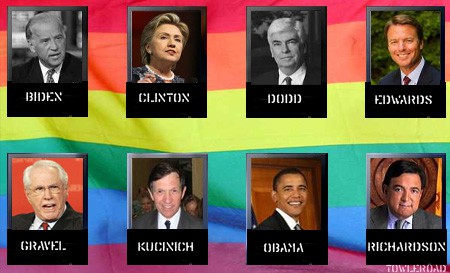 As you know, tonight is the HRC/LOGO-sponsored Presidential Forum on LGBT issues. Hillary Clinton, John Edwards, Mike Gravel, Dennis Kucinich, Barack Obama and Bill Richardson will be participating. Chris Dodd withdrew late last Friday, citing scheduling conflicts, and Joe Biden is not participating. He also said scheduling conflicts were to blame.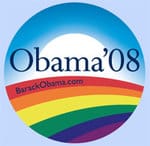 Clinton, Edwards, and Obama are holding dueling fundraisers in West hollywood to coincide with tonight's events.
As a preface to tonight's event, Barack Obama today announced the formation of a National LGBT Leadership Council, headed by his campaign's national LGBT liaison, Stampp Corbin.
It's unclear what the role of Obama's National LGBT Leadership Council will be, other than to reflect his support within the LGBT community to potential voters. Edwards flashed a similar list in April. Obama also announced that house parties will be taking place across the nation concurrent with tonight's "gay debate". The senator also recently launched an "Obama Pride" section of his campaign website, capped with a flashy rainbow logo (above right).
The members of Obama's National LGBT Leadership Council, after the jump…
Stampp Corbin, National LGBT Liaison, Obama for America; Former Human Rights Campaign Board Member; High Tech Entrepreneur
Terje Anderson, VT, Former Executive Director for the National Association of People with AIDS
Tom Barbera, NH, Board Member, Bay State Stonewall Democrats and Vice Chair, SEIU National Lavender Caucus
Paris Barclay, CA, Emmy Award Winning Producer and Director
Michael Bauer, IL, Community Activist
Tommy Bennett, IL, Radio Personality, Tom Joyner Show
Rosalyn Bugg, CA, Community Organizer
Phil Burgess, IL, National Director, Pharmacy Affairs, Walgreens
Ed Butler, NH, State Representative
Beth Bye, CT, Connecticut State Assemblywoman
Thomas Chaderjian, IL, Stonewall Democrats
Gary Cloutier, CA, Councilmember and Vice Mayor, Vallejo
Jon Cooper, NY, Suffolk County Legislature Majority Leader
Craig Covery, MI, Councilman, Ferndale City
Terry Crow, MO, Attorney
Chris Diebel, IA, Business Leader
Karla Drenner, GA, State Representative
Bevan Dufty, CA, San Francisco Board of Supervisors
Rick Garcia, IL, Director, Equality Illinois
Carlos Garza, IA, Chair, Des Moines Pride
Richard Gordon, Supervisor, San Mateo County Board of Supervisors
Nancy Greaney, NH, PFLAG New Hampshire
Greg Harris, IL, State Representative
Wendy Howell, VT, Community Organizer
Chris Hughes, IL, Founder, Facebook; Obama Campaign Director of Online Organizing
Harold Janeway, NH, State Senator, PFLAG Member
Vincent Jones, CA, Executive Director, Center for Health Justice
Nicole LeFavour, ID, State Representative
Ed Lehman, CA, Union Organizer
Robert Lilligren, MN, VP, Minneapolis City Council
Gordene Mackenzie, MA, MA Transgender Political Coalition
Sharon Malhero, IA, Activist
Timothy Patrick McCarthy, MA, Harvard University
Darryl Moore, CA, Berkeley City Council Member
Ed Murray, WA, State Senator
Nancy Nangeroni, MA, MA Transgender Political Coalition
Michael Noll, CA, Vice Mayor, Signal Hill
Renae Ogletree, IL, Community Organizer
Paul Provost, MN, Business Manager
Rebecca Prozan, CA, Chair, Alice B. Toklas Club
Nicole M. Ramirez, CA, City Commissioner, San Diego
Tonyia M. Rawles, CA, Bishop-Elect, Unity Fellowship Church Movement
Donna Red Wing, CO, Activist
Dr. Penny Robbins, IL, Reverend
Gene Robinson, NH, Bishop
Robert Ryken, IL, Attorney
Deborah Shore, IL, Commissioner, Chicago Metropolitan Water Reclamation District
Stephen Smith, CA, Former DNC Member
Eric Tabor, IA, Chief of Staff, Attorney General Tom Miller
Maxim Thorne, NJ, Former Executive Director, Head Start New Jersey
Dr. Leanne Tigert, MA, Minister
Lew Todd, NY, Founding Member, Stonewall Democratic Club, Gay Activists Alliance, National Gay Task Force
Tom Tunney, IL, Chicago Alderman
David Upthegrove, WA, State Representative
Tawnee Walling, NH, Director of Seacoast Outright
Gene Webb, IL, University of Chicago
Richard A. Wilson, IL, Chair, National Lesbian and Gay Law Association
Tobias Barrington Wolff, PA, University of Pennsylvania Law School
You may have missed…
Candidates to Hold Dueling Fundraisers on Gay Debate Night [tr]