Singapore bans gay picnic, saying politics not welcome in public parks: "It was never meant to be political, and this testifies to the paranoia of the government. They automatically assume that anything gay is a political challenge to them. It speaks volumes about the political climate in Singapore."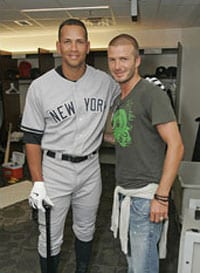 Beckham pays a visit to the Yankees and Blue Jays' clubhouses to see what American sports are all about.

British Great White Shark photo exposed as a fake: "The man who took the picture, which was featured prominently in the Sun, admitted he had snapped the creature during a fishing trip in South Africa rather than off Newquay, northern Cornwall. 'I took the picture while I was on a fishing trip in Cape Town and just sent it in as a joke,' Kevin Keeble told the Newquay Voice newspaper. 'I didn't expect anyone to take be daft enough to take it seriously.'"

Five continents to see lunar eclipse on August 28th: "The event begins 54 minutes past midnight PDT (0754 UT) on August 28th when the Moon enters Earth's shadow. At first, there's little change. The outskirts of Earth's shadow are as pale as the Moon itself; an onlooker might not even realize anything is happening. But as the Moon penetrates deeper, a startling metamorphosis occurs. Around 2:52 am PDT (0952 UT), the color of the Moon changes from moondust-gray to sunset-red. This is totality, and it lasts for 90 minutes."

Fred Phelps' Westboro Baptist Church to picket funerals of Minneapolis bridge collapse victims.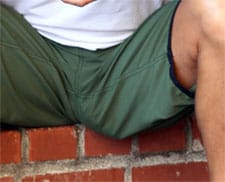 A look at Matthew McConaughey's pocket rocket?

Retired bishop who supported gay rights causes reaction after he is identified attending Catholic mass in Uganda: "The Rt. Rev. John Baptist Kaggwa mentioned Ssenyonjo among the important guests in the congregation, drawing mixed reactions from Catholics who also condemn homosexuality. One of the celebrants said Ssenyonjo should not have been recognised during the mass because the public could think that the Catholic Church sympathises with gay activists."

What's next for Apple TV?

Broward County Commission blasts Fort Lauderdale Mayor Jim Naugle over homophobic comments, but stops short of censure: "Using words such as bigoted and despicable, commissioners united in chastising Naugle, then signed letters that will be sent to gay news Web sites and convention planners reaffirming their commitment to diversity. The symbolic reproach individually by the nine commissioners, though, stops shy of them formally voting to censure him, which is what some gay political activists want. The county's tourism czar, Nicki Grossman, said Tuesday's actions were vital in light of the growing national tumult over Naugle's views. She and other tourism executives had hoped the area's long-standing reputation as a gay-friendly destination would avert any negative effect."