German scientists at Sea Life entre aquariums conducted an experiment to see if playing music would get sharks in the mood for sex because they had observed a slowdown in breeding. What they discovered was that not only did music do the trick, the sharks had preferences of one artist over another: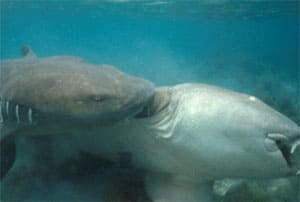 "James Last, Justin Timberlake and Salt-N-Pepa are among the artists who get the sharks in the mood for love beneath the waves but Britney Spears left them cold. The experiment, conducted by 10 Sea Life centres in Germany was launched because of a slowdown in the breeding of captive sharks in the country…For the study, each Sea Life Centre played two hours of music a day. Each site played a different title, from classic to rock to hip-hop. Visitors and Sea Life staff were asked to watch the behaviour of the sharks. In Konstanz and Dresden, visitors watched the typical courtship behaviour of sharks. The creatures followed and bit each other in their fins. At the Timmendorfer Strand aquarium, it looked as if the sharks were dancing to the rhythm of the music. Jens Hirzig, display supervisor at Sea Life Timmendorf, said: 'The creatures swam around each other and it seemed that they were dancing with each other while listening to Joe Cocker. But what surprises us especially was that we discovered 50 eggs. This makes us very happy.'"
And strangely enough, while dancing to Cocker, they left their hats on.
A few of the various Sea Centres' results after the jump:
"Salt-N-Pepa "Push It"
The sharks in Speyer loved the song and 50 eggs of the cat sharks and dogfish have been seen.
Joe Cocker "You Can Leave Your Hat On"
A success in Timmendorf with 50 eggs of dogfish and hammerhead sharks.
James Last "Traumschiff"
Cat sharks in Dresden 'got in the mood' and pursued females but there is no evidence of pregnancies yet.
Justin Timberlake "Rock Your Body"
Zebra sharks in Konstanz were seen to be 'courting each other heavily'."